Jordan Palmer will start at quarterback for the Bears in Thursday night's preseason finale against the Browns, but he won't be the only reserve who gets expanded playing time.
Coach Marc Trestman revealed Monday that most Bears starters will not play in the game.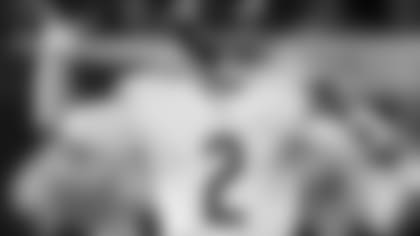 Jordan Palmer completed his only pass attempt for five yards last Friday night against the Raiders.
"I wouldn't say all, but it'll be close to all of the starters," Trestman said. "There are always going to be things that happen later in the week because of injuries and things like that we may have to play some guys, but our hope is most if not all will be held out of the game."
Trestman has yet to decide if right guard Kyle Long and right tackle Jordan Mills will play against the Browns. The two rookie offensive linemen performed well while starting and playing into the second half last Friday night in Oakland for the second straight preseason game.
"We're going to wait the week out and see how it goes," Trestman said. "I haven't made a decision on the two of them whether we want to get them more work or not.
"But they did very well. I am not going to hide from the fact that they did very well last week and have continued to improve. I'm just not ready to go the distance on exactly what we are going to do as we move forward here. I can stand up here confidently and say they played well."
While Trestman intends to sit most of his starters, Browns first-year coach Rob Chudzinski is leaning toward playing some of Cleveland's first-teamers, at least for a brief period of time. That will give Palmer and other Bears reserves a chance to shine against top opponents.
"I think you can turn it into a positive," Trestman said. "It gives them an opportunity to play against some of the better players and see how they match-up competition-wise, and it creates more value for them competitively-speaking and throughout the league. So I don't think it's a bad thing."
The Bears must cut one player by 3 p.m. Tuesday to reach the NFL's mandatory 75-man roster limit. They must then reach the 53-man limit by 5 p.m. Saturday.
"It's not easy," Trestman said. "It's hard on everybody and a lot of the guys we let go have been with us for six months. They've been dramatically important in the growth of our football team and the development of our football team. They were guys that were all good for our locker room.
"It's never easy because they're either letting go of a dream that they've had or they've got to overcome their adversity here and move on and so many guys do that."
While the Bears have a fairly good idea what their final roster will look like, there are a handful of players on the bubble and others who could catch on elsewhere if they play well Thursday night.
"I think by holding some of the guys out you have a general idea of a lot of the guys that are going to make the football team," Trestman said. "But this is a big game for the guys who are playing on a number of levels. There's still competition for positions on the team and there's competition for positions in this league.
"There's great value in this game on multiple levels."