As they prepared to address their defense in free agency, the Bears had former Steelers and Giants safety Ryan Mundy high on their priority list.
The Bears agreed to terms with Mundy on a two-year contract Tuesday and introduced him to the media Wednesday along with another free agent acquisition, defensive end Lamarr Houston.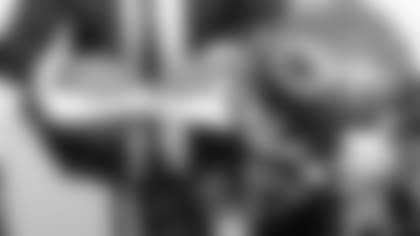 Safety Ryan Mundy signs a two-year contact with the Bears at Halas Hall.
"When we were going through our process of evaluation and looking for safeties to enhance our roster, Ryan's name kept coming up," said general manager Phil Emery. "Here was a guy that showed good upside production when he had the opportunity, had excelled on [special] teams, had played high and low, and knew how to cover people. He had instincts and he could help others line up."
Primarily a reserve during four seasons with the Steelers, Mundy started 10 of 16 games played with the Giants last year, establishing career highs with 70 tackles and four tackles-for-loss. In five NFL seasons, he has recorded 64 special-teams tackles, tied for third most in the NFL.
"He looked like a guy that we wanted to target towards improving our roster and we were really, extremely happy when that came to fruition on Tuesday with his signing," Emery said.
"Ryan exemplifies what we're looking for in defensive players: tough, hard-nosed, physical, smart, instinctive and good athletes. If you're not a good football athlete, you don't have a lot to build upon your base. But Ryan has that and we're looking forward to his improvement as a football player into what is a wide open opportunity to become a starter and a big part of our defense."
Mundy, 29, has not been promised a starting job. But that's just fine with him.
"I feel like I'm coming in here to compete for a starting opportunity, and that's all I can ask for," Mundy said. "I don't shy away from competition. I look forward to getting started with workouts and practices and everything like that. Nothing's set in stone and I don't take anything for granted. I'm just excited about the opportunity and I'm ready to get to work."
A Pittsburgh native, Mundy spent his first five NFL seasons as a reserve with the Steelers, learning behind Pro Bowl safeties Troy Polamalu and Ryan Clark.
"It was a great experience," Mundy said. "I couldn't ask for a better situation to come back to my hometown team, the team that I grew up cheering for and have an opportunity to learn from two professionals like that, and not only how to be a pro on the field but off the field.
"I combine my playing style with both of them. Ryan Clark is a very heads-up player. He knows what's going on every play. He's a great communicator and makes sure everyone gets lined up on every play. Troy, he's the wildcard. He likes to take his chances, but they're calculated chances. During my time in Pittsburgh, I tried to take what I could from them, and here I am."
Mundy's toughness and tackling ability appealed to the Bears, who are in the process of
rebuilding a once-proud defense that uncharacteristically struggled in 2013.
"I think I bring a physical nature to the defense," Mundy said. "That's been my M.O. for as long as I can remember, since I started playing football. I'm not a guy who's going to shy away from contact. I like to get down there and mix it up with tight ends and running backs, and I might even run into a few linemen here and there.
"I think that's the No. 1 attribute I bring to the game. I like to use my size and my strength and combine that with my athletic ability to get guys on the ground and get some third down stops for our defense."