First-year Bears coach Matt Nagy delivered a special message to quarterback Mitchell Trubisky following their first minicamp practice together Tuesday at Halas Hall.
"I just got done talking to Mitch just a little bit ago, pulled him to the side and just told him really how amazed I was at how he got through this first day," Nagy told reporters. "He was impressive. I don't want to put too much on him. But at the same time, he needs to understand that was pretty good what just happened."
Nagy especially liked the consistency that Trubisky demonstrated throughout the practice, which was held inside the Walter Payton Center.
"You're going to have some poor reads here and there. There weren't many," Nagy said. "You're going to have some poor throws here and there. There weren't many. For what he did today, I was very happy."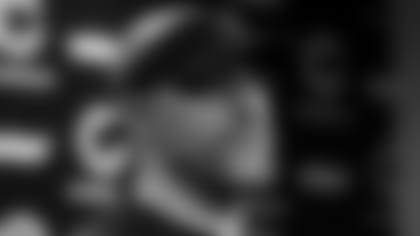 Bears coach Matt Nagy speaks to the media following Tuesday's practice.


Nagy credited coordinator Mark Helfrich and quarterbacks coach Dave Ragone with helping not only Trubisky but the entire offense look sharp on Day 1.
"We've never been together," Nagy said. "We weren't sure how it was going to be just getting into the huddle, walking up to the line of scrimmage and saying, 'ready, set, go.' The guys all around—the centers, the linemen, the running backs—lining up [made] very few mistakes. That goes back to them in the meetings of understanding the details."
Trubisky's performance in Tuesday's practice reflected the work he's put in since the offseason program began April 3. That's when he first received his playbook and began working with coaches in a classroom.
"When they're here and start Phase 1, you have to have that balance of giving him what you want to give him—not giving him too much so he understands it—but you've got to give him enough so you can see how much he can handle and can't handle," Nagy said.
"He's put in a lot of hard work trying to understand this offense since he's been here. You've got other guys who have been part of this system, like Chase [Daniel], like Trey Burton and Tyler Bray that know the terminology and are going to help. Mitch is a very smart kid. He's intelligent, very driven, motivated. A lot of the things we talk about as a team, he has. For him to be our quarterback and to have those traits, it's hard not to smile."
Selected by the Bears with the second pick in last year's draft, Trubisky started the final 12 games of his rookie season, completing 59.4 percent of his passes for 2,193 yards with seven touchdowns, seven interceptions and a 77.5 passer rating.
With Trubisky opening the year as the Bears' undisputed starter for the first time, teammates have noticed a difference in the promising second-year pro.
"He asserted himself a lot last year, but I definitely feel like a lot more people are listening to him," said running back Jordan Howard. "He has a lot greater command of the locker room and stuff because he's the quarterback for sure now."
Defensive end Akiem Hicks told reporters Tuesday that Trubisky is "a little more vibrant in the locker room" and "his voice is a little bit more heard."
"Last year, [he didn't really know] what the NFL is like," Hicks said. "I think that this year he has a firm grasp on who he has to be for our team to be successful."
Howard considers Trubisky a natural leader.
"Just his personality, you can just tell he has the 'it' factor," Howard said. "He wants to push everybody. He wants to be that guy. He just has it.
"He's excited about the offense. He's just excited to get back out there and show what he can really do. His rookie year he was just going out there learning, but now he's ready to take over."