After interviewing six highly qualified candidates over five days, Bears general manager Ryan Pace knew that he had to hire Matt Nagy as the team's new head coach.
"It's a really great feeling when you meet a person and everything clicks, and everything comes together," Pace said Tuesday at Nagy's introductory press conference at Halas Hall. "Matt's a proven leader. He's a winner. He's intelligent. He's innovative. He has strong character. He's got a great family. And he shares the same passion for the game that I have."
Pace interviewed Nagy Sunday morning in Kansas City and hired him as the 16th head coach in Bears history on Monday. He replaces John Fox, who was relieved of his duties Jan. 1 after compiling a disappointing 14-34 record in three seasons with the team.
Nagy, 39, has spent the last 10 seasons coaching in the NFL, all under head coach Andy Reid with the Eagles and Chiefs. In Philadelphia, Nagy served as a coaching intern (2008-09), coaches assistant (2010) and offensive quality control coach (2011-12). In Kansas City, Nagy was the quarterbacks coach from 2013-15 before being promoted to co-offensive coordinator in 2016 after Doug Pederson left to become Eagles head coach and offensive coordinator in 2017.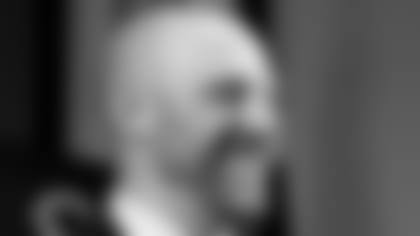 New Bears head coach Matt Nagy speaks with the media during his introductory press conference.


"I have a tremendous amount of respect for coach Reid, with him being a long-time leader in our league and a successful coach," Pace said. "Coach Reid believes in Matt Nagy, and so do I. I'm proud to be able to pair with Matt and attack our plan for success together."
Speaking to the media for the first time as Bears head coach, Nagy displayed confidence, passion, sincerity and humor. "This is truly an honor," he said. "It's special. It's a dream and I'm still pinching myself. Everything happens really fast, but it means a lot to be here."
Nagy felt an instant connection with Pace and is eager to help him turn around a team that has finished in last place in the NFC North each of the past four seasons.
"The direction of this team and this organization, you see, you feel it," Nagy said. "There's a want there to be great. One of the things I noticed right away off the bat with Ryan is understanding how easy it's going to be for us to have a partnership. It's going to be strong.
"I told him, I said, 'I got you. This is something here we're going to do together. No egos involved, right? I'm going to help you with any questions you have and you do the same for me. You criticize me and I'll criticize you.' We may agree to disagree, but guess what? We're going to build a competitive team, and in the end we'll be able to look each in the eyes, respect each other and smile."
Nagy intends to call plays with the Bears, something he did not do with the Chiefs until Week 13 of this season. Despite that inexperience, he has been lauded for his work with quarterback Alex Smith. The 12-year veteran led the NFL this year with a career-high 104.7 passer rating, completing 67.5 percent of his passes for 4,042 yards with 26 touchdowns and five interceptions.
While the presence of promising young quarterback Mitchell Trubisky no doubt was an incentive to accept the Bears job, Nagy plans to value and work with every single player on the roster.
"It's certainly a part of it, but that's not the reason why I'm here," he said. "I'm here because of the organization and the direction. I could feel that from the moment I was in that interview process. That's a benefit to have Mitch Trubisky. I knew a lot about him because I had him in the Combine and we spent some time with him. But this is a team game. Everyone on this team is just as important as the quarterback. But that was certainly a part of it."
Under Nagy's direction this season, the Chiefs offense ranked fifth in the NFL in total yards, ninth rushing and seventh passing. The unit propelled Kansas City to a 10-6 record and the AFC West Division championship.
The experience running that offense will help Nagy in his new role—his first as a head coach at any level.
"I've always considered myself a leader, a leader of men, and I have a command, I feel like, in the room," Nagy said. "You never really know how it's going to go until you do it. I never knew how being an offensive coordinator was going to go until I did it and I never knew how being a quarterbacks coach was going to go until I did.
"So this will be a new opportunity for me and it'll be a challenge. There will be ups and downs and I'll be able to understand where those are at and I'll have Ryan there in my corner to say, 'Hey Matt, listen, maybe you should look at it this way or that way.' But I'm going to grow and that's the beautiful part of being in this situation right now."