ORLANDO, Fla. – The Bears have been widely praised for the improvements they've made in free agency this offseason, but no one is more excited about the acquisitions than Matt Nagy.
The first-year head coach discussed the new players with reporters for the first time Tuesday at the NFL owners meetings in Orlando. Nagy lauded general manager Ryan Pace and chief negotiator Joey Laine for landing seven unrestricted free agents.
"Being able to get into this free agency process for the first time with Ryan and his guys and the coaching staff has been fun; learning who these guys are, how we wanted to go about trying to fill some holes in the roster," Nagy said. "I give a lot of credit to Ryan and Joey for doing a good job, and we're really happy with who we ended up with."
Since free agency started March 14, the Bears have signed receivers Allen Robinson (Jaguars) and Taylor Gabriel (Falcons), tight end Trey Burton (Eagles), quarterbacks Chase Daniel (Saints) and Tyler Bray (Chiefs), outside linebacker Aaron Lynch (49ers) and kicker Cody Parkey (Dolphins).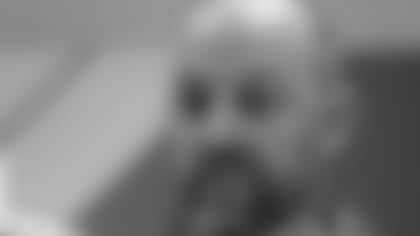 Bears head coach Matt Nagy talks to the press during the NFL Combine.


The most significant addition has been Robinson, who was ranked third on NFL.com's original list of the top free agents available behind only quarterbacks Kirk Cousins and Drew Brees.
Robinson spent his first four NFL seasons with the Jaguars, catching 202 passes for 2,848 yards and 22 touchdowns in 43 games. He was voted to the Pro Bowl in 2015 after recording 80 receptions for 1,400 yards and 14 TDs. The 6-3, 211-pounder followed with 73 catches for 883 yards and six TDs in 2016 before missing the final 15 games last season with a torn ACL.
"He's a guy that presents a lot of problems to defensive backs just because of his ability with his size," Nagy said. "He's a good route runner. If you have a smaller DB on him, he can beat you up with his size. A bigger DB, he can beat you up with his route running.
"The guy's got experience. He's produced. He's put up numbers and he's now worked to put himself in an opportunity to be a free agent, and that was a position we wanted to strengthen, so that was who we went after."
The Bears also went after Gabriel, a speedy, quick and elusive receiver. The 5-8, 165-pounder caught six touchdown passes in helping the Falcons reach the Super Bowl in 2016 and followed with 33 receptions for 378 yards and one TD last season with Atlanta.
"He's a good fit," Nagy said. "I was really excited once he got in and we started seeing who he was as a person and his energetic personality, but then on tape his personality fits the way he plays. Getting him the ball, you see what he can do with screens. He can catch the ball behind the line of scrimmage and take it for a touchdown really on any given play. But he's not just that quote-unquote gadget guy. He can be a true receiver and really do well and excel, and he's proven that."
Burton is also a good fit. The 6-3, 235-pounder was one of the first players that Nagy discussed with Pace on their plane trip from Kansas City to Chicago after Nagy was hired. They talked about the importance of the "U" tight end in Nagy's offense, a job that Travis Kelce filled with the Chiefs.
"It's an important role," Nagy said. "It's a position that's easy to create some plays for, and when you have a guy that has the size that Trey has and the speed that he has, it's about mismatches. If you get a small nickel on him and they want to play nickel, he can use his size to be able to body him up. If they want to put a bigger guy on him, we can use his speed.
"That's an advantage to the offense and that's one of the things that I learned through coach [Andy] Reid is getting mismatches throughout, and that's what Trey does."