An already-thin position was further depleted in Sunday's loss to the Saints as the Bears lost a starting defensive tackle to an injury for the third straight game.
Nate Collins, who was making his second straight start in place of Henry Melton, exited in the third quarter after hurting his knee. Collins' leg appeared to buckle while he was being blocked by an offensive lineman. Two weeks ago, Melton suffered a torn ACL on a similar play in a win over the Steelers, ending his season.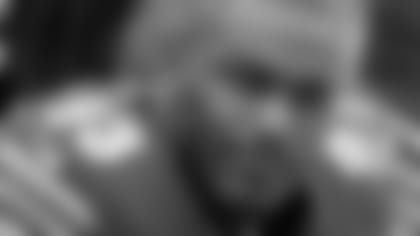 Nate Collins
"I don't know how [Collins] is doing," coach Marc Trestman said after the Bears lost their second straight game. "We'll know more tomorrow. You know, it's next man up, again."

Last weekend in Detroit, Stephen Paea sustained a toe injury that forced him to miss Sunday's game against the Saints. End Corey Wootton moved inside and started in Paea's place. Landon Cohen rotated in at tackle for the second straight game Sunday. Rookie Zach Minter was active for the first time, but he did not play.

"We can't sit around and wait for somebody to come rescue us," said defensive end Julius Peppers. "With the guys that we have, we've got to play with those guys, try to get everybody healthy and get everybody back. But right now we've just got to go with what we've got."

Feeling frustrated: Brandon Marshall wasn't happy after the Bears lost their second straight game.

"The frustration comes when we're not winning and the offense isn't moving the ball," said Marshall, who was limited to four receptions for 30 yards and one touchdown. "It has nothing to do with me. It's about I want to win.

"I've always said I have a nice contract, been to Pro Bowls, made All-Pro. I want to win. Sometimes the formula may go to me, sometimes it doesn't. Whatever's best for the team to win, that's what we need to do.

"I'm always going to be frustrated when our offense isn't No. 1 in the league. I'm always going to be frustrated when we're losing. I'm frustrated. We just lost. We lost two in a row."

Numbers game: Jay Cutler posted a 128.1 passer rating Sunday, dropping his career record to 25-2 when he has a rating of 100 or higher. The only previous defeat came last Dec. 2 when he recorded a 119.6 rating in a 23-17 overtime loss to the Seahawks at Soldier Field.

Cutler's 128.1 passer rating was the highest by a Bears quarterback in a loss since Dave Krieg's 131.1 on Oct. 13, 1996 in a 27-24 setback to the Saints in New Orleans. The 128.1 was the eighth highest of Cutler's NFL career and his fifth highest in 61 starts with the Bears.

Bouncing back: After struggling last weekend in Detroit with a 28.8-yard net average on five punts, Adam Podlesh rebounded Sunday with a 44.8-yard net on four punts including a long of 54 yards.

Tough to stop: Saints tight end Jimmy Graham proved to be as difficult to cover as advertised, catching 10 passes for 135 yards. Graham set up his team's first touchdown with catches of 29 and 38 yards.

"He's a tough guy to stop," said coach Marc Trestman. "You can see how they use him. They use him as a wide receiver out on the perimeter. They use him inside. Right now with Lance Moore out, he's one of the go-to guys certainly on their team and he stepped up today and made significant plays in this game."

Shifty running back Darren Sproles wasn't as big of a factor. He rushed for 10 yards on three carries, caught three passes for 31 yards, averaged 19 yards on two kickoff returns and returned one punt for two yards.