Bears coach Marc Trestman announced Monday that defensive tackle Nate Collins will miss the rest of the season after suffering a torn ACL in Sunday's loss to the Saints.
Collins was injured in the third quarter when his leg buckled while he was being blocked by an offensive lineman. He was making his second straight start in place of Henry Melton, who also suffered a torn ACL on a nearly identical play two weeks earlier in a win over the Steelers.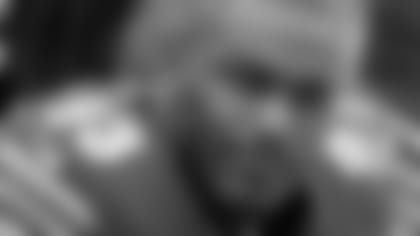 Nate Collins suffered a torn ACL in Sunday's loss to the Saints.
With Stephen Paea unable to play against the Saints due to a toe injury, end Corey Wootton moved inside to tackle. Collins was replaced by Landon Cohen, who signed with the Bears Sept. 27. Zach Minter was the only other tackle who was active, but he did not play.

Collins, a four-year NFL veteran who joined the Bears in 2012, was performing well before the injury Sunday, recording four tackles, one sack, one tackle-for-loss and two quarterback hits.

Wootton offered support on his Twitter account, writing: "Praying for my guy [Collins], one of the hardest working guys I know and just an overall great person. I know u will come back stronger!"

With a short week to prepare for Thursday night's home game against the Giants, the Bears likely will rely on the players already on their roster to help fill the void at defensive tackle.

"It's the National Football League and it's the next man up," Trestman said. "We all know the guys we have here. We'll continue to look around and see what's out there. I thought that Corey did a good job for the first time inside. Landon made some plays. We've just got to continue to mix it up. We'll continue to move them and do things structurally to try to get a push inside."

It would be tough for a street free agent to sign with the Bears this week and contribute in Thursday night's game. Cohen proved that it's possible when he played against the Lions only two days after joining the team. But he was already familiar with the defense, having been part of similar schemes under Rod Marinelli with the Lions and Cowboys and playing for Bears defensive coordinator Mel Tucker with the Jaguars.

"They're not going to practice, so that's going to be very difficult," Trestman said. "The guys that have been here are the guys that are generally going to have to play. We did it with Landon. If there's a guy like Landon who can come in and knows the system, he can get out there because he hardly had any reps either and we played him."

Paea's availability likely will be a game-time decision. His return would provide a big boost, especially if he performs like he did in the first three games of the season when he registered six tackles, a half sack and three tackles-for-loss. But the Bears won't rush Paea back if he isn't ready.

"We're never going to put a guy on the field who will have a residual effect and get worse because they're playing," Trestman said. "We don't want that. It's a long season. We want Stephen healthy. But we're not going to put a guy out there where he's just about ready to turn the corner and then he goes backwards again for the sake of one game. We've got a long season to play."

Minter could make his NFL debut Thursday night. An undrafted rookie from Montana State, he earned a spot on the 53-man roster by impressing Bears coaches in training camp and the preseason.

"We're going to talk more about that this week," Trestman said. "We've been working hard to develop him. He's done some really good things, so that's certainly a point of discussion as we move into the next 24 hours."