Tom Nelson grew up a huge Bears fan, and he has the pictures to prove it.
After signing a reserve/future contract with his hometown team last week, Nelson tweeted photos of him wearing a Bears stocking hat as a baby and a Bears sweater as a young boy.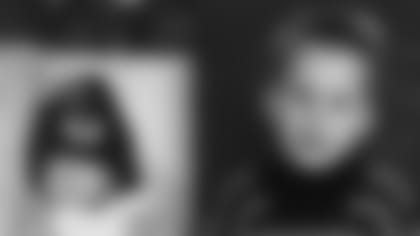 Tom Nelson showed his true colors while growing up a Bears fan in Chicago's Northwest suburbs.
"Playing in the NFL is a privilege in itself, but for me there's nothing like playing for the Chicago Bears," said the Arlington Heights native, a safety who spent his first three NFL seasons with the Cincinnati Bengals (2009-10) and Philadelphia Eagles (2011).
"It's certainly a different feeling signing with the Bears as opposed to the two other teams I played with. I'm just excited. I think it's a great opportunity, and I'm looking to make the most of it."
After attending Hersey High School and Illinois State University, Nelson entered the NFL in 2009 as an undrafted free agent with the Bengals. He appeared in 12 games with three starts as a rookie, recording 25 tackles and one interception.
Nelson's quest to earn a roster spot as an unheralded rookie in Bengals training camp was chronicled on "Hard Knocks," HBO's popular behind-the-scenes series.
"Hard Knocks was a great experience," Nelson said. "In that situation they can portray you in any way they really want. They can take your 10 worst plays or your 10 best. I'm thankful that they portrayed me in a positive light."
Nelson registered nine tackles in eight games in 2010, but was released by Cincinnati the following summer. He then joined the Eagles on Dec. 5, 2011, compiling two tackles in four games.
Last summer Nelson suffered a high ankle sprain in a preseason game in New England and was waived/injured by the Eagles. He completed rehab in late September and continued to work out, hoping for an opportunity. Nelson had a few tryouts with NFL teams, but was not signed.
"When that happens, you can shut it down and say 'this isn't fair,'" Nelson said. "But for me that was just more motivation to keep going harder and stronger and prove this isn't it for me and I have a lot to offer and hopefully a team will see that and then I can take advantage of the opportunity."
Nelson's best chance to impress the Bears' coaching staff likely will come on special teams.
"Special teams, especially for someone who's not projected to be a starter, is key," Nelson said. "That's where you contribute and that's where you're looked upon to make an impact on the game.
"For me, that's everything. I'm not saying that I can't play safety, but you have to earn the trust of the coaches and the organization through special teams before you would ever get to that role. Special teams is first and foremost. You prove yourself on special teams and then go from there."
Having been out of the NFL since last summer, Nelson can't wait until the Bears' offseason program begins in April.
"I'm very eager," he said. "I wish that it was time to go and play football and be part of the team and do what I love. I'm ready to get back. I'm ready to play football. I'm ready to put on a helmet. I'm ready to run around. I'm excited for OTAs.
"I know with most of the guys, their season just ended so they're trying to rest their bodies and recover. But for me I'm just ready to go. If it started tomorrow, I would be thrilled. But I can be patient, and the time will come."