In the seventh of a nine-part series, ChicagoBears.com takes an in-depth look at Bears linebackers heading into the 2017 offseason.
Upgrading their linebacking corps was clearly the Bears' No. 1 priority last offseason.
After signing veteran inside linebackers Danny Trevathan and Jerrell Freeman in free agency, they selected outside linebacker Leonard Floyd with the ninth pick in the draft. All three produced when available, but they combined to miss 15 games.
Trevathan sat out two weeks early in the season with a thumb injury before rupturing the patellar tendon in his right knee in a Week 12 loss to the Titans, sidelining him for the final five games.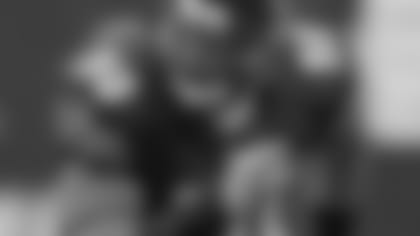 Bears inside linebacker Jerrell Freeman led the Bears with 127 tackles and seven tackles-for-loss.


General manager Ryan Pace indicated at his end-of-season press conference in January that Trevathan could begin training camp on the physically-unable-to-perform list this summer.
"I know he's been communicating with some other guys in the league that have had a similar injury and have come back from it and are currently playing at a high level," Pace said. "So we're optimistic. He's optimistic. He's working hard.
"It could be a situation where he misses a lot of the offseason OTAs and we get to camp and we've got to make the evaluation at that point: Is he ready to go? Is he a PUP guy? We have to make that decision then. But it's an injury he can fully recover from, so I think we'll be all right."
Freeman led the Bears with 127 tackles and seven tackles-for-loss despite serving a four-game suspension for violating the NFL policy on performance enhancing substances. He's expected to return in 2017 to anchor the middle of the defense.
Floyd missed four games with a calf injury and two concussions. But he showed great promise, recording 33 tackles, seven sacks, one forced fumble, one fumble recovery and six tackles-for-loss. His seven sacks ranked third in Bears history by a rookie behind Mark Anderson's 12 in 2006 and Brian Urlacher's eight in 2000.
Floyd produced arguably the Bears' play of the year when he sacked Packers quarterback Aaron Rodgers, forcing a fumble that Floyd recovered in the end zone for a touchdown in a Week 7 loss in Green Bay. Floyd generated more points in a Week 13 win over the 49ers when he sacked Blaine Gabbert in the end zone for a safety.
"The sky is the limit for Leonard Floyd," Pace said. "His athleticism, his quickness, he's 100 miles per hour to the ball every play. He's just refining his technique as a pass rusher, so his hand use is going to get better. But he has some special things that we saw in the draft that you can't coach. He's the right kind of person, too. He's highly intelligent, so we can move him around."
Veteran outside linebackers Pernell McPhee, Willie Young and Sam Acho also made key contributions in 2016. After spending the first six weeks of the season on the PUP list while recovering from offseason knee surgery, McPhee compiled 28 tackles and four sacks in nine games.
"He's one of the top leaders on this team and people follow his attitude and his physicality," Pace said. "He got healthier and healthier as the season went on. I can think of practices when we were in the indoor [facility], I'd see him coming around the corner with the speed and [think], 'That's the Pernell I'm used to seeing.'
"Pernell is a professional. Pernell is a leader and I think he's going to get healthier and healthier. He is worth the investment and I hope to see that more next season."
Young registered a career-high 59 tackles and led the Bears with 7.5 sacks, with six coming in the first six games. Acho added 40 tackles and one sack while playing in all 16 contests.
With Trevathan injured, rookie fourth-round pick Nick Kwiatkoski showed promise inside, recording 43 tackles, one sack and five tackles-for-loss while starting the final six games.