Cutting Tim Jennings and placing Ryan Mundy on injured reserve Sunday assured the Bears of sporting an entirely different secondary from the one that started the 2014 season.
A year ago, the unit featured Jennings and Charles Tillman at cornerback and Mundy and Chris Conte at safety. Tillman and Conte were not re-signed by the Bears during the offseason and ultimately joined the Panthers and Buccaneers, respectively.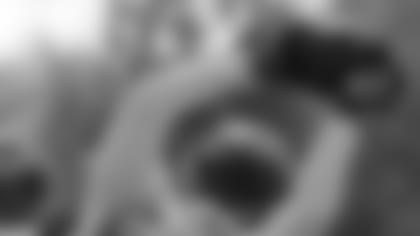 Bears cornerback Alan Ball at training camp.
With all the changes, the defensive backfield that started last Saturday night's preseason game against the Bengals—Kyle Fuller and Alan Ball at cornerback and Antrel Rolle and Adrian Amos at safety—is trying to develop some cohesiveness.
"Going forward we want to create our identity and step on the field Week 1 and establish who we are," Ball said. "We're doing it in practice piece-by-piece as a defense. But until we get out there Week 1 and really do what we've got to do, that's when you know who you are."
While Fuller started the final 14 games last season as a rookie after Tillman was injured, the other three members of the secondary are new to the Bears. Ball and Rolle were signed as free agents, while Amos was selected in the fifth round of the draft out of Penn State.
According to nickel back Sherrick McManis, the key to developing that identity is to "just trust in one another, trusting teammates, putting good things on film, working hard at it and translating it from the practice field to the game field.
"As we do that, as any team does that, we'll get comfortable," McManis said. "Our identity will start to form and we'll grow into that."
Nothing personal: One day after Jennings was released, coach John Fox explained the decision.
"We liked guys better," Fox said. "We evaluate every practice, and unfortunately for him, he was recovering from offseason surgery. And then, really like anything, it's not personal. It's not that you don't like guys. It's that you like other people better."
Jennings spent the past five seasons with the Bears, starting 74 of 78 games played and recording 353 tackles, 16 interceptions, 53 pass breakups, six forced fumbles and four fumble recoveries. He was voted to the Pro Bowl in 2012 when he led the NFL with nine interceptions and again in 2013 when he picked off four passes.
"It always hits you when you've got a friend who's either going to IR or leaving the team, but that's the business," McManis said. "I talked to Tim. We talked and we said our goodbyes, but he'll be fine."
Aches and pains: Jimmy Clausen has a concussion after all. The Bears backup quarterback was cleared to return to last Saturday night's game in Cincinnati after taking a blow to the head, but he developed delayed symptoms and sat out Monday's practice.
Other players who did not participate in the workout included receivers Alshon Jeffery (calf), Eddie Royal (hip), Marquess Wilson (hamstring) and Kevin White (shin); running back Senorise Perry (foot); defensive tackle Eddie Goldman (concussion); defensive lineman Jeremiah Ratliff (ankle); outside linebacker Sam Acho (illness); linebacker Jonathan Bostic (ankle); and cornerback Tracy Porter (hamstring).
Running back Kyle Long was given a veteran's day off.
Fox described Ratliff's status as "week-to-week." The 11-year veteran is suspended for the first three games of the season for violating the NFL's substance abuse policy.
"He can't play for three of the regular season games to begin with, so we'll try to get him healthy and when he's cleared to play health-wise, he'll play," Fox said.
Quick learner: After skipping the entire voluntary portion of the offseason program, tight end Martellus Bennett leads the Bears in receiving in the preseason with 11 catches for 94 yards.
"He's a pretty good physical specimen to both block and run routes," Fox said. "Marty's been outstanding. He didn't get all of our offseason [work], but he's a guy who's picked up the offense quickly. I think he's adapting to our new schemes and doing a very good job."