It may be hard to believe that the Bears defense played its best game in two seasons without all three of its starting linebackers, but there is one reasonable explanation.
A new philosophy that Marc Trestman adopted in his second year as coach helped replacements Darryl Sharpton, Khaseem Greene and Christian Jones excel in last Sunday's win over the Falcons.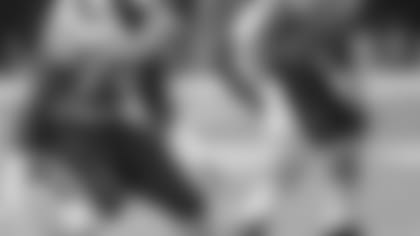 Making their first starts of the season last Sunday in Atlanta, linebackers Khaseem Greene (52) and Darryl Sharpton combined to make 21 tackles.
"We really are trying to stay true to one of the big changes we made last year, and that's to do everything we could to make every player that [general manager] Phil [Emery] brought in here game ready," Trestman said. "I think we saw a little bit of that [in Atlanta]."
With their top four linebackers inactive due to injuries—Lance Briggs, D.J. Williams, Jonathan Bostic and Shea McClellin—the three replacements finished 1-2-3 on the team in tackles. Greene led the Bears with 11 stops. Sharpton not only recorded 10 tackles but called all the defensive signals less than three weeks after joining the team. And Jones added six tackles.
"We do put pressure on them to make sure that they're assignment-ready each and every week," Trestman said. "We do spend time with them in off-hours working to get them ready. They're in here very early and the coaches are down there to help them."
Defensive coordinator Mel Tucker and linebackers coach Reggie Herring deserve much of the credit for preparing the three inexperienced players to face the high-powered Falcons offense.
"We've coached every single player we've had since Day 1 that as a player he's going to have to go in and help us win the game," Tucker said. "That's what we coach and that's the way those guys prepare. Everyone on the roster has value for us and we treat it as much day-in and day-out.
"When guys have opportunities, we expect guys to step up and fill those roles and give us everything they have, and that's what we did."
The Bears are getting a bit healthier at the linebacker position. On Wednesday, McClellin (hand) practiced without restrictions and Bostic (back) was limited. But Briggs (ribs) and Williams (neck) both were unable to participate. Trestman doubts that Briggs will practice Thursday and said "we'll see" when asked whether the seven-time Pro Bowler will play Sunday against the Dolphins.
It appears, however, that Briggs, Williams and McClellin will regain their starting jobs when healthy.
"We felt good about the guys who were in there before the injuries hit, and the roles that they had previous to those injuries are roles that they earned," Tucker said. "We're constantly evaluating the play of guys day-in and day-out and we feel good about those guys.
"We got a one-game evaluation on [the replacements]. They stepped in and we feel good about what they did. [But] when guys are healthy and ready to go, I anticipate those guys getting back in there and filling those roles again. And we know that we have guys that can step in when needed and get the job done, and that's the expectation for us."
Rather than discussing whether Greene, Sharpton and Jones earned more playing time with their outing against the Falcons, Trestman is just happy the trio responded when called upon.
"The good part about this whole thing is they got the playing time and I think they gained not only their own personal confidence and being able to play and go on the road and do what they did, but just the confidence of our football team and our coaches," Trestman said.
"That's a great start, and we're going to need everybody as we move forward. There are not only players that are playing linebacker positions, they're playing on special teams and doing other things. The more players we have available, the better off we're going to be in the total picture."