Defensive end Willie Young will help fill the void created by Lamarr Houston's season-ending injury. But the Bears' most productive pass rusher won't alter his approach or his mentality.
"It's always tough whenever a guy goes down, but at the same time nothing changes for me whatsoever," said Young, who leads the Bears with a career-high seven sacks.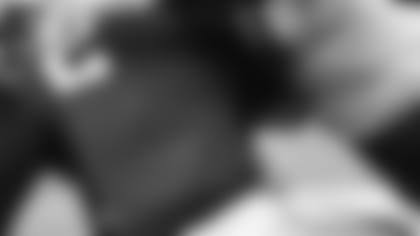 Willie Young sacks Falcons quarterback Matt Ryan in the Bears' Week 6 victory.
"What I bring to the table personally is what I bring to the table. I'll continue to bring that to the table to the best of my ability. I'll just keep bringing the pain. That's all."
Houston tore his right ACL in the Bears' last game, a 51-23 loss to the New England Patriots Oct. 26, when he landed awkwardly on his leg while celebrating his first sack of the season.
"I'm very disappointed for him and for us because he works really hard and he's a good player for us and he's productive," said defensive coordinator Mel Tucker.
"I just hate to see something like that happen. He gave great effort and great energy. He's one of our best run defenders. He applied pressure on the quarterback for us; maybe not [a lot of] sacks, but he did apply pressure and got some hits."
Houston's absence will cause a domino effect on the depth chart, with Young moving into a starting role and reserves Trevor Scott, Cornelius Washington and David Bass competing for playing time. Bass was promoted from the practice squad to the active roster on Monday.
Taking a look: For the second straight day, the Bears employed several different combinations on their starting offensive line Thursday in practice.
With left guard Matt Slauson out for the season with a torn pectoral muscle, the Bears shuffled Michael Ola, Jordan Mills and Brian de la Puente in at left guard and rotated Ola and Mills at right tackle. Coach Marc Trestman said he would shed more light on what the starting line may look like Sunday night in Green Bay when he meets with the media Friday.
"The most important thing is we set ourselves up to win the game," said offensive coordinator Aaron Kromer. "If that requires someone moving positions, it's important that they understand that what's best for the team is best for him. Usually with an offensive line they feel that anyway."
The situation is further complicated this week by the absence of top reserve Eben Britton, who is not expected to play while he recovers from an appendectomy.
After starting the same five linemen in all 16 games last season, the Bears will use their sixth different combination in nine contests Sunday night in Green Bay.
"With the way that the season has unfolded, we've had multiple injuries and we want to make sure that we're prepared at this point with Slauson out to be able to rotate where we see fit, where the best combination is," Kromer said. "That's what we're doing at this point.
"The most important thing is we're to the point where we have to make sure we have alternatives. Our backup plans aren't the same backup plans that we've had throughout the year. So we're just trying to make sure that everything fits accordingly if something else happens."
Aches and pains: In addition to Britton, linebacker Darryl Sharpton (hamstring) also did not practice Thursday. Tight end Martellus Bennett (ribs) was limited.
Mills (foot), linebackers Lance Briggs (ribs) and Jonathan Bostic (back), cornerback Kyle Fuller (hip/hand) and safety Danny McCray (knee) all worked out without restrictions.  
Slow starts: The Bears have stumbled out of the gate of late, failing to score in the first quarter in their last three games. Their first two possessions in their last four contests have resulted in seven punts and one interception. In their last two games, the Bears have trailed at halftime by scores of 38-7 to New England and 14-0 to Miami.
"I think that it came down to a number of things," Trestman said. "It comes down to play selection. It comes down to mental errors. It comes down to penalties. It comes down to those things that really are the result of things that you can control.
"That's what we have to assess—what are the things that we can control to be more consistent. There's a litany of things. I gave you just a few that every team has to do well for them to start faster."