Pittsburgh quarterback Nate Peterman enjoyed spending Senior Bowl week working with the Bears coaching staff, most notably offensive coordintaor Dowell Loggains and quarterbacks coach Dave Ragone.
Ragone was back at the Senior Bowl after playing in the game in 2013 when he was a quarterback entering the NFL Draft out of Louisville.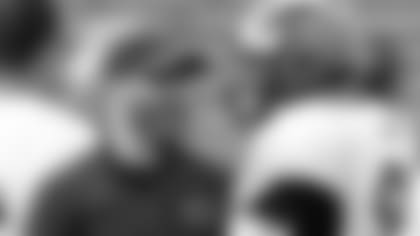 Bears defensive line coach Jay Rodgers chats with Michigan defensive tackle Ryan Glasgow.


"[Loggains] was great," Peterman said. "You could tell he was really detailed. He's in the back of the room and he comes up and he knows what he wants and he demands it. Coach Rags gave us a lot of wisdom; just how to carry yourself and what to do at the next level."
Bears coaches challenged the North team to learn their plays in a short period of time.
"They installed from 8:30 to 10:30 [Monday night]," Peterman said. "I had about two hours that night until about 1:30 to study them a little bit more, and then we were on the practice field the next day. It was fun, though. I think they were definitely trying to test us and hopefully I passed it all right."
Peterman completed 16 of 23 passes for 153 yards and one touchdown in the North's 16-15 loss to the South.
Toledo running back Kareem Hunt led the North in rushing with 118 yards on 15 carries.
"The Bears have got some great coaches," Hunt said. "They definitely showed me some great knowledge, especially in the pass pro game. They taught me a new way how to keep my head up and just be strong in there."
Michigan defensive tackle Ryan Glasgow, who grew up in Aurora and attended Marmion Academy, worked with Bears defensive line coach Jay Rodgers.
"It was really cool," Glasgow said. "Growing up a Bears fan, being able to be coached by their staff was something special. I think coach Rodgers is a great guy, a great coach. So overall it was pretty surreal the whole week. I really appreciate how encouraging he was, how understanding."
Inside linebacker Connor Harris, a Division II prospect from Lindenwood, picked up valuable tips from Bears assistant coach Glenn Pires.
"He's awesome," Harris said. "Since Day 1 we've been in the meeting rooms watching film and he's one of the best coaches as far as teaching goes. He's improved my game a lot just learning little technique things and knowing more about different coverages, different fronts we're running, and why we run them.
"Especially being a small school guy like myself, to come down here to compete with these guys and to work with a great group of coaches that are very knowledgeable and improve my game a lot just in one week, it's a once-in-a-lifetime experience."