Nine Bears players, including Pro Bowl guard Kyle Long, receiver Kevin White and cornerback Kyle Fuller are listed as questionable for Sunday's season opener in Houston.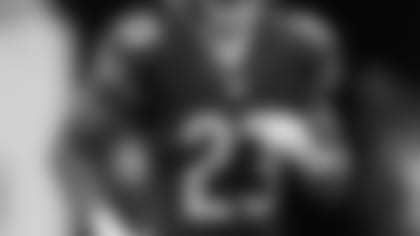 Cornerback Kyle Fuller is listed as questionable for Sunday's season opener in Houston.


However unlike previous years when "questionable" meant that players had a 50/50 chance to play, beginning this season it simply means that it's uncertain if that player will suit up.
Long sustained a shoulder injury Aug. 18 in the Bears' second preseason game in New England. White has a sore hamstring. And Fuller is recovering from arthroscopic knee surgery.
Other Bears listed as questionable are fullback Paul Lasike (wrist), receivers Joshua Bellamy (shoulder) and Deonte Thompson (knee/ankle), defensive end Cornelius Washington (ankle/knee), safety Deon Bush (hamstring) and cornerback Bryce Callahan (groin).
Leading the way: Five Bears players were voted captains by their teammates: quarterback Jay Cutler and receiver Alshon Jeffery on offense; inside linebacker Danny Trevathan and outside linebacker Pernell McPhee on defense; and Sherrick McManis on special teams.
Cutler has now been voted a captain in each of the seven years that players have voted for the honor since he was acquired by the Bears in 2009. Captains were not selected in 2014 when then-coach Marc Trestman chose them on a weekly basis.
"[Cutler] coaches the whole offense," said running back Jeremy Langford. "He does a great job of controlling the whole offense and letting you know how he wants to run certain things or how to run routes or if you did a good job. He'll tell you good job, or if not, he'll tell you how he wants it. He does a great job of leading the whole offense."
Cutler feels as if he has taken on more of a leadership role with each passing year.
"I think the longer you are in the league and the more you are around the same team and the same guys, you're going to feel that urge to help some guys along and step in those leadership roles," Cutler said. "This team, this offense, they make it easy. Everyone is eager to learn. There aren't any egos. Everyone works hard. So being able to push guys and demand more of guys comes easy."
Sticking around: A coaching intern during training camp, former NFL center Kevin Mawae will remain with the Bears the rest of the season after being hired as an offensive assistant.
Mawae was voted to eight Pro Bowls during 16 NFL seasons with the Seahawks (1994-97), Jets (1998-2005) and Titans (2006-09) and was named first-team All-Pro seven times.
"For guys that have it in their blood and want to do it, he's kind of exhibited that to me in the internship program," Fox said.
Respecting the anthem: A handful of NFL players have joined 49ers quarterback in protesting racial injustice in the United States by sitting down or kneeling during the playing of the national anthem.
Asked about the possibility of any Bears players protesting in a similar manner Sunday, Fox said: "We strongly encourage to pay respect to the anthem. It's not anything we can mandate, but we strongly recommend. So far, that's been the case."