The following is the first of eight position previews in advance of the April 25-27 NFL Draft.
Quarterbacks are typically selected at or near the top of the NFL Draft. But without any can't-miss prospects in this year's class, it doesn't appear that that will be the case in 2013.
As a matter of fact, ESPN's Todd McShay is predicting that no quarterbacks will be chosen in the first round. That would be a remarkable development given that the all-important position has been addressed with the No. 1 overall pick 11 of the last 12 years. The only exception was in 2008 when the first quarterback (Matt Ryan) was taken third.
Geno Smith - West Virginia

ESPN's Mel Kiper Jr. lists only two quarterbacks on his big board of the top 25 prospects, and both are at the bottom: West Virginia's Geno Smith at No. 24 and USC's Matt Barkley at No. 25.
Pro Football Weekly's 2013 Draft Preview ranks only three quarterbacks among the top 46 draft prospects: Barkley (25th), Syracuse's Ryan Nassib (26th) and Florida State's E.J. Manuel (31st). The publication doesn't think as highly of Smith, listing him at No. 102.
Barkley was a four-year starter at USC, where he completed 64.1 percent of his passes for 12,327 yards, 116 touchdowns and 48 interceptions. As a junior, Barkley connected on 69.1 percent of his passes for 3,528 yards with 39 touchdowns and only seven interceptions. The 6-2, 227-pounder regressed a bit as a senior, throwing for 3,273 yards with 36 TDs and 15 interceptions.
Kiper describes Barkley as "productive, accurate, with underrated arm strength" as well as "a smart player" who "throws well on the move and still has areas where he can improve."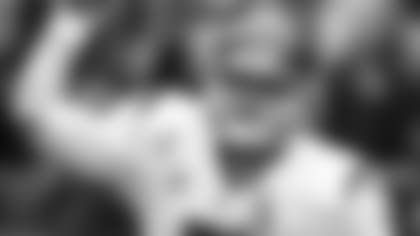 USC's Matt Barkley is among the top quarterbacks in the April 25-27 NFL Draft.

PFW labels Barkley as "a cool, confident, rhythm passer who suffered as a senior behind a leaky offensive line that left little time to throw." The publication describes him as a cross between Drew Brees and Colt McCoy, and predicts that his "leadership traits, strength of character and football IQ will allow [him] to operate at a high level in a play-action passing game with a clean pocket and a talented cast of receivers."

Smith was a three-year starter at West Virginia, where he completed 67.4 percent of his passes for 11,662 yards with 98 touchdowns and 21 interceptions. Last year as a senior the 6-2, 218-pounder connected on 71.2 percent of his throws for 4,205 yards with 42 TDs and just six interceptions.

According to Kiper, Smith's "best traits are great accuracy, ball placement and good pocket maneuverability and awareness. What I question is whether you can draft him with the certainty that he'll start and improve your QB situation immediately."

PFW describes Smith as a cross between Akili Smith and Aaron Brooks, and labels him as "a gimmick, overhyped product of the system lacking the football savvy, work habits and focus to cement a starting job" who "could drain energy from a QB room."

Nassib was a three-year starter at Syracuse, where he completed 60.3 percent of his passes for 9,190 yards with 70 touchdowns and 28 interceptions. Last year as a senior the 6-2, 223-pounder threw for 3,749 yards with 26 TDs and 10 interceptions.

PFW labels Nassib as "an extremely tough-minded, overly muscled competitor who willed the Orangemen to victory with a marginal supporting cast" and sees him as "one of the most pro-ready passers in the class" who "has Pro Bowl potential with continued refinement."

Manuel was a two-year starter at Florida State, where he completed 66.9 percent of his passes for 7,736 yards with 47 touchdowns and 28 interceptions. Last year as a senior the 6-5, 237-pounder connected on 68.0 percent of his throws for 3,392 yards with 23 TDs and 10 interceptions.

PFW describes Manuel as "a rare physical specimen who will require some time to get acclimated to the NFL game and must prove he can stay healthy." The publication predicts that he "could emerge as a legitimate starter and would benefit highly from a streamlined playbook that allows him to play fast."

Other top quarterbacks in the draft include Tennessee's Tyler Bray, Miami (Ohio's) Zac Dysert, North Carolina State's Mike Glennon, Oklahoma's Landry Jones and Arkansas' Tyler Wilson.