After battling cancer for more than two years, 11-year-old Collin Wehr passed away March 20.
The Northbrook sixth-grader was an avid Bears fan who made multiple visits to Halas Hall and even corresponded with some players via email. Throughout his ordeal, Collin remained positive and always had a smile on his face.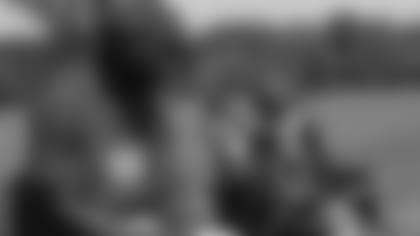 Collin Wehr interviews Bears cornerback Charles Tillman last season at Halas Hall.
"Collin Wehr captured the hearts of so many people in the Chicago Bears organization from the first moment he entered Halas Hall," the Bears said in a statement. "We feel honored to have had the opportunity to spend time with him and the Wehr family on several occasions.

"We have such fond memories of their visits to Halas Hall, and the photographs that we took will serve as warm reminders of this cherished young man and the sport he loved so much. Collin will always be a part of the Bears football family, and his positive attitude, spunky personality, and engaging smile will never be forgotten. We will greatly miss our dear friend."

Shortly after Collin passed away, his parents Ray and Joan Wehr sent an email to relatives and close friends that read in part: "He fought for as long as he could and much harder than one his age should ever have to in keeping with Walter Payton's belief, 'Never die easy.'"

"Collin was a happy kid," Ray Wehr told ChicagoBears.com. "Whatever he had to go through, he went through it and his vision was always, 'OK, let's get this done and let's get through it.'"

At a prayer service for Collin at Northbrook's St. Norbert Church in December, more than 300 well-wishers sang "Bear Down, Chicago Bears."

"He was a huge Bears fan," Ray said. "Whatever TV he was watching it was always set to the NFL Network."

Collin spent a memorable day at Halas Hall last season, thanks to the Make-A-Wish Foundation and former Bears receiver Tom Waddle. Given the opportunity to "replace" Waddle for a day as an NFL Network reporter, Collin interviewed Charles Tillman, Julius Peppers and other players.

"It was the greatest day of his life," Ray said. "He held court with Robbie [Gould] and Julius and Lovie [Smith] and Peanut, and all the players stopped by to see him in the lunch room."

A celebration of Collin's life will begin at 5:30 p.m. Monday at St. Norbert's Parish (1809 Walters Avenue) in Northbrook and conclude with a prayer service at 7 p.m.

An email sent out by the Wehrs read: "At the request of the family, attire for the celebration will be sport jerseys and at the request of the deceased, anyone arriving in Green Bay Packers attire will respectfully be asked to change."

In lieu of flowers, the family is asking that donations be made to the Ann & Robert H. Lurie Pediatric Brain Tumor Research c/o Collin Wehr fund, 225 East Chicago Avenue, Box 4, Chicago, IL 60611, or Illinois Chapter of Make-A-Wish 640 N LaSalle Drive, Suite 280, Chicago, IL 60654 or wishes.org in Memory of Collin Wehr.

"We decided to donate Collin's brain, brain stem and spinal cord to Lurie's Hospital for research," Ray said. "The only truly frustrating thing is that Collin was so strong throughout this entire process that if there were alternate treatments, he was strong enough to try them. But unfortunately, research just hasn't gotten to that point yet. So we want to ensure that we get research up so that the kids that follow will have some alternatives."