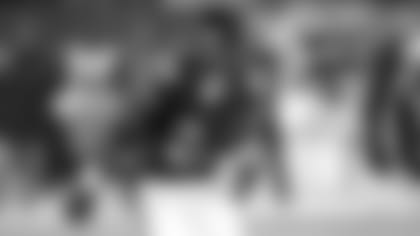 A look at how the rest of the NFC North fared in Week 14 action.
Detroit Lions:
* Detroit 34, Tampa Bay 17*
* Record: 9-4*
Behind strong games from their quarterback and defense, the Lions jumped out to a big lead and never looked back, throttling the Buccaneers and guaranteeing a winning record in Jim Caldwell's first season in Detroit. The Lions led 17-3 midway through the second quarter, thanks in large part to the play of Matthew Stafford, who threw for 311 yards and three touchdowns in the victory. Much of that went to Calvin Johnson, who had eight receptions for 158 yards and a score.
Detroit's defense delivered as well. The Lions forced turnovers on three consecutive Tampa Bay drives, putting the game out of reach in the first half. The team sacked Bucs quarterback Josh McCown six times while limiting the Tampa rushing attack to just 26 yards.
Green Bay Packers
Green Bay 43, Atlanta 37
* Record: 10-3
*
Another dominant first half propelled the Packers to a victory at Lambeau Field. Quarterback Aaron Rodgers threw for 327 yards and three touchdowns, and the Green Bay rushing attack was dominant as well, gaining 179 yards. Much of their damage was done early in the game, as the Packers scored on all five of their first-half drives, taking a 31-7 lead into the break.
Atlanta rallied in the second half, but it was too little, too late, for the leaders of the NFC South. The star of the game for the Falcons was receiver Julio Jones, who had 11 receptions for 259 yards.
Minnesota Vikings:
Minnesota 30, New York Jets 24 (overtime)
* Record: 6-7*
All season long, the Vikings have been looking for explosive offensive plays. On Sunday, they found them, which led Minnesota to an overtime victory. Teddy Bridgewater threw for 309 yards and two touchdowns, including the game-winning score in overtime. The rookie quarterback hit Jarius Wright for an 87-yard score in the extra period. Earlier in the game, Bridgewater threw a 56-yard touchdown to Charles Johnson.