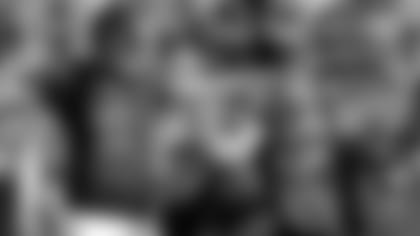 A look at how the rest the other three teams in the NFC North fared this weekend.
Detroit Lions:
Detroit 24, New York Jets 17
* Record: 3-1*
Matthew Stafford was terrific under center in leading Detroit to a big road victory. The Lions quarterback completed more than 70 percent of his passes while throwing for a pair of touchdowns, despite not having the injured Calvin Johnson for much of the game. Stafford added an 11-yard touchdown run in the win.
Detroit's top-ranked defense also showed up with an impressive performance. The Jets went three-and-out on five consecutive offensive drives, as the Lions did not allow the New York rushing attack to get going. The Lions sacked Geno Smith twice and intercepted him once in the win.
Green Bay Packers
Green Bay 38, Chicago 17
* Record: 2-2
*
In the week leading up to the game against the Bears, Aaron Rodgers spelled out for Packers fans what they needed to do after the team's 1-2 start to the season. "R-E-L-A-X," Rodgers said on his radio show. The quarterback backed up his talk with his best game of the season, throwing for 302 yards and four touchdowns in the win.
Minnesota Vikings:
Minnesota 41, Atlanta 28
* Record: 2-2*
Teddy Bridgewater's first-career start ended with a victory, but did not go exactly as the rookie would have hoped. Bridgewater threw for 317 yards and converted a key two-point try before leaving the game in the fourth quarter with a sprained left ankle. The team was still awaiting the results of the MRI. Bridgewater helped Minnesota score the game's final 14 points, helping the Vikings rally back after falling behind in the third quarter.
The quarterback was aided by a strong rushing attack and swarming defense. Fellow rookie Jerick McKinnon ran for 135 yards, while Matt Asiata added 78 rushing yards and three touchdowns; Bridgewater added a 13-yard TD run of his own. Minnesota's defense turned in a terrific performance as well down the stretch, as Atlanta's four fourth-quarter drives ended with two punts and two interceptions.