The following is the fourth of eight position previews in advance of the April 25-27 NFL Draft.
Most analysts agree that Notre Dame's Tyler Eifert is the top tight end in the draft. The 6-5½, 250-pounder had 140 receptions for 1,840 yards and 11 touchdowns while playing in 38 games with 34 starts over three seasons. TOP TE PROSPECT VIDEOS
ESPN's Mel Kiper Jr. ranks Eifert as the 12th best prospect in the draft and predicts that he will be selected by the Pittsburgh Steelers at No. 17, three spots ahead of the Bears.
"He's going to be the top tight end available in a league obsessed with them," Kiper writes. "[He] has pass-catching skills of a natural receiver and can be split out. [He] will go up and high-point passes. He'll get off the line effectively and is underrated as a blocker."
Eifert caught 63 passes for 803 yards and five touchdowns as a junior in 2011 and followed with 50 receptions for 685 yards and four TDs last year as a senior.
Pro Football Weekly's 2013 Draft Preview ranks Eifert as the 11th best prospect overall and states that he "was a future pro from the moment he stepped on campus and should make an immediate impact on the next level, where his prototype dimensions, athletic movement and elite ball skills will enable him to become one of the most productive tight ends in the league."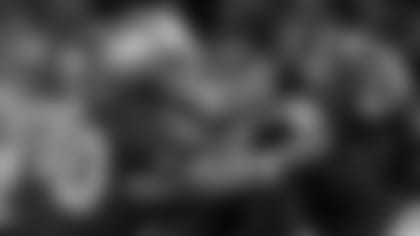 Notre Dame tight end Tyler Eifert stretches to haul in a touchdown pass against Army.
Kiper ranks Stanford's Zach Ertz as the second best tight end in the draft and predicts that he will be chosen by the New York Jets in the second round (39th overall). Ertz had a breakout season last year as a junior for the Cardinal, leading the nation's tight ends with 69 receptions and 898 yards while scoring six touchdowns. The 6-5, 249-pounder was very productive in a pro-style offense, boasts excellent size and has good hands.
PFW describes Ertz as a "comfortable, low-risk project whose pedigree, production, maturity and ball skills should allow him to become a very good pass-catching tight end."
Kiper ranks San Diego State's Gavin Escobar as the third best tight end in the draft and predicts that he will be picked by the 49ers in the second round (61st overall).
Escobar caught 122 passes for 1,646 yards and 17 touchdowns while playing in 39 games with 24 starts over three seasons. The 6-6, 254-yarder was San Diego State's leading receiver last year when he caught 42 passes for 543 yards and six TDs.
PFW labels Escobar as a "big, athletic, dependable tight end with good receiving skills" who "needs to make strides as a blocker, but can move the chains and factor in the red zone and should develop into a very good starter."
PFW ranks three other tight ends among its top 100 prospects in the draft: Stanford's Levine Toilolo (63rd), Arkansas' Chris Gragg (75th) and Cincinnati's Travis Kelce (85th).
NFL.com senior analyst Gil Brandt lists four tight ends among the top 100 players in the draft: Eifert (12th), Ertz (32nd), Escobar (62nd) and Rice's Vance McDonald (71st).