It took a couple of years, but defensive end Corey Wootton is beginning to resemble the player the Bears were envisioning when they selected him in the fourth round of the 2010 draft.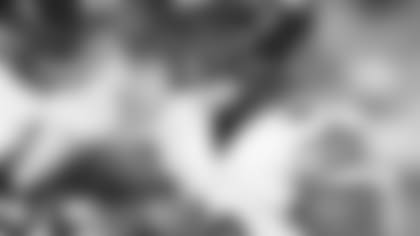 Corey Wootton celebrates after recording a sack in last Sunday's win in Jacksonville.
"I think it may be as simple as Corey just staying out there and being healthy," said coach Lovie Smith. "We talked a lot about his potential. It seems like injuries have cut that short a little bit, him making that next leap. But he is healthy now."
Wootton recorded 11/2 sacks in last Sunday's 41-3 win over the Jacksonville Jaguars, increasing his season total to three. The former Northwestern star was originally credited with two sacks, but the NFL split one with Henry Melton after reviewing the play.
Wootton generated a key takeaway late in the first half. With a lightning-quick first step, he sacked Jaguars quarterback Blaine Gabbert, forcing a fumble that Julius Peppers recovered at the Bears' 23, preventing Jacksonville from snapping a 3-3 tie.
The Bears had high hopes for Wootton last season, but he injured his knee on the opening kickoff of the preseason opener and underwent arthroscopic surgery. When he finally returned after missing more than a month, he hurt his hand in practice after appearing in just one game.
Now healthy, Wootton is part of a defensive line rotation that includes a wealth of talented veterans and promising youngsters. In addition to Wootton, Peppers and Melton, the unit includes Israel Idonije, Shea McClellin, Amobi Okoye, Stephen Paea and Matt Toeaina.
"It's been very good to watch them play and how they play off one another and how they lead one another," said general manager Phil Emery. "What's been really interesting about our defense is that each and every week, especially among the defensive linemen, someone has played a little bit better than the rest of them.
"If one guy was having an off day, somebody has always stepped up into the mix and had a better day and has had key plays, like Corey Wootton did last week. Some other games that was Henry. Some other games that was Paea. Someone has always stepped up to the plate and delivered."
Quality depth: If the unthinkable occurs and the Bears lose quarterback Jay Cutler and running back Matt Forte to injuries for the second straight season, they appear to be in much better shape to survive than they were in 2011.
Emery made sure of that by signing veteran backups Jason Campbell and Michael Bush in free agency. Before joining the Bears, Campbell had started 70 of 71 games played in seven NFL seasons with the Redskins and Raiders, while Bush had made 19 starts the previous three years with the Raiders.
Other free agents the Bears have signed who had starting experience elsewhere include cornerback Kelvin Hayden, linebacker Geno Hayes, guard Chilo Rachal and tackle Jonathan Scott.
"That was a big part of our plan," Emery said. "I think you can see that from our signings. It's about having not just depth but quality depth and bringing in the right players and the right mixture of players that if a player goes down we still have enough players and the right players in the right position that we can still go after a championship. I really believe that with the group that we brought in, we can.
"Part of that is those players had past NFL starting experience. If you look at our signings, a high number of them have been past starters. Maybe not their whole career, but parts of their career they have starting experience and that is awfully important when they have to step into that role."