Selected by the Bears in the sixth round of the draft, Miami punter Pat O'Donnell is looking forward to reuniting with his former high school teammate, second-year linebacker Jon Bostic.
O'Donnell and Bostic played football, ran track and lifted weights together at Palm Beach Central High School in Florida, graduating from the school in 2009.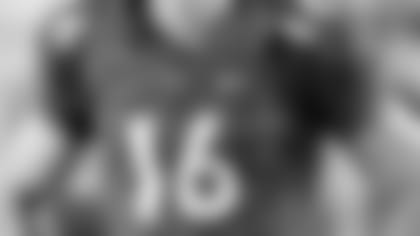 Pat O'Donnell
"It's going to be great to have a person like Jon Bostic to look up to," O'Donnell said. "To have that good friend and a good leader on the same team like in high school is a great feeling. It's a great opportunity for me. With him going through what he did last year as a rookie, just to have someone there to show me the ropes who has been through it, he'll be a good mentor for me."
O'Donnell lettered three times in both football and track at Palm Beach Central, where he averaged 45.1 yards on punts and had a 95 percent touchback rate on kickoffs. The 6-4, 220-pounder made seven field goals as a senior, with a long of 52 yards.
O'Donnell earned first-team all-state and all-district honors as a senior, was named the co-winner of the 2008 Lou Groza Award honoring the top kicker in the Palm Beach County area, and played in the 2009 Outback All-Star Game.
"He's got a strong leg," said Bostic, who grew up two miles down Lake Worth Road from O'Donnell. "In high school, we never had to worry about covering a kickoff. He'd kick it through the uprights every time. How many people can say they have a kicker like that in high school?"
O'Donnell continued to excel during three-plus seasons at Cincinnati and one at Miami, where he set a Hurricanes school record last year with a 47.1-yard gross average.
Bostic predicts that O'Donnell won't be shy about trying to make tackles on special teams, given his athleticism and strength; the punter put up 23 reps of 225 pounds at the NFL Combine, more than 19 running backs, 21 defensive linemen and all 37 wide receivers.
"He's always been an athletic guy," Bostic said. "He's always been strong. He could always lift with me. It's crazy that we ended up right back here on the same team."
Bostic reached out to O'Donnell not long after he was drafted by the Bears last Saturday.
"I was excited for him," Bostic said. "I talked to him that night. I just congratulated him for all his work. As a punter or kicker, it's tough to get drafted. So I wanted to just call and congratulate him and see how he was doing and just let him know that I'll help him out and get situated up here."
Bostic is convinced that O'Donnell will make a smooth transition to the Bears and the NFL.
"He can be quiet at times," Bostic said. "But once he gets around you and gets to know you, he's a funny guy, so he'll fit right in with [kicker] Robbie [Gould] and the other players on the team as well. He's going to come in, he's going to work and do what he's got to do."