Even though Bears' sixth-round pick Pat O'Donnell was the only punter selected in the 2014 NFL Draft, he'll have to earn his spot on the team's 53-man roster this summer.
O'Donnell will be pushed in training camp and the preseason by first-year pro Tress Way, who excelled in offseason workouts. The Oklahoma product originally signed with the Bears as an undrafted rookie in 2013 and averaged 38.2 yards on six punts last preseason before being cut.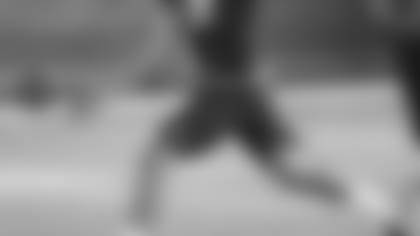 Pat O'Donnell
punts a ball inside the Walter Payton Center during rookie minicamp.
"I think it's going to be a heck of a competition," said special teams coordinator Joe DeCamillis. "When we drafted Pat, for whatever reason, Tress really picked his business up. He's really punted well and it's going to be a heck of a competition."
O'Donnell set a school-record at Miami last season with a 47.1-yard gross average. He spent the previous four years at Cincinnati, redshirting after suffering an injury as a true freshman in 2009.
O'Donnell possesses rare size and strength for a punter. Standing 6-4 and weighing 220 pounds, he did 23 reps of 225 pounds at the NFL Combine—more than six tight ends, 19 running backs, 21 defensive linemen and all 37 wide receivers.
O'Donnell played soccer while growing up in Florida and lined up as a tight end and linebacker in addition to punting at Palm Beach Central High School.
After graduating with a degree in organizational leadership from Cincinnati, O'Donnell took advantage of his final year of NCAA eligibility by transferring to Miami. The primary reason he made the move, however, was to be close to his father, Terrence, who was suffering from cancer.
Both O'Donnell and Way regularly hit the roof of the Walter Payton Center with their punts during offseason workouts, something that made DeCamillis smile.
"If it hits the roof in there, that means they are hanging the ball," DeCamillis said. "If they don't hit the roof, that's usually not a good thing because that means it's coming right back at you in the return form. I'm glad that it's hitting the roof, let's just say that."
Interestingly, Way's performance has improved since the Bears drafted O'Donnell.
"I've seen some guys fold and some guys rise to the occasion, and obviously you want the guys that are going to rise to the occasion," DeCamillis said. "You want a guy that knows how to compete and that's what we've seen so far, so hopefully that continues."
Although NFL teams rarely cut punters they draft, DeCamillis insists that O'Donnell and Way are battling for the job on an even playing field.
"I understand the draft pick status, but it's a true competition and I think that's how it should be," DeCamillis said. "If your football team is built on competition, you have a chance of getting better at all positions, and that's no different."