Not all of the Bears coaches who are preparing the offense for the upcoming season actually coach on the offensive side of the ball.
Defensive coordinator Vic Fangio—a veteran of 28 NFL seasons—challenges the offense every play in training camp with a 3-4 scheme that's locked in attack mode.
"Coach Fangio does such a good job of [showing] multiple looks and doing a great job with the safeties," said offensive coordinator Adam Gase. "It's very tough to play their defense.
"They do such a good job of disguising. It's such a challenge for our guys every day. We can't walk out here and just think we're going to rip them apart because it's going to be a challenge play-in and play-out. Every play is something different from those guys and we're kind of adjusting as we go and trying to figure out how to beat them on each play."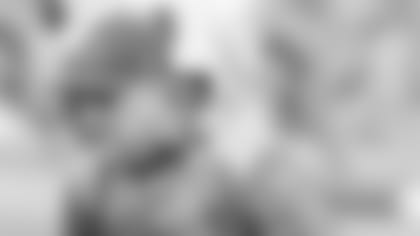 Defensive coordinator Vic Fangio
The defense enjoyed its best day of training camp Wednesday, dominating the offense.
"They got after us today," said quarterback Jay Cutler. "They beat us in about every period we had. [Fangio] has done a good job of mixing it up. He's not afraid to drop eight or to bring eight. He throws a lot of different things at you—three-down, four-down, nickel, dime. He's got an extensive package, so it makes you think."
Familiar face: Former Bears star Brian Urlacher attended Wednesday's practice. Urlacher spent his entire 13-year NFL career with the Bears from 2000-12, anchoring a dominant defense that helped the team win three division titles and one conference championship.
"I've had a relationship with Brian before I came here, so I think that always helps," said coach John Fox. "He and I have a friendship already. I've encouraged him to be around more, to come around. He's wise. I've seen him a couple times socially this offseason and he was out here with one of his sons today, so I'll encourage that.
"I like alumni people, people who have been in the seats these guys have been. I'm sure they're happy they're not out there practicing when they come, at least they mention that. But they'll be encouraged to be around, Brian included."
Other former Bears who attended Wednesday's practice included center Olin Kreutz, tackle James "Big Cat" Williams and quarterback Jim Miller.
Roster moves: The Bears on Wednesday signed tight end Kevin Greene to a one-year contract and waived/injured tight end Brian Vogler, an undrafted rookie from Alabama.
Greene entered the NFL in 2014 with the 49ers as an undrafted free agent out of USC. He spent parts of last season on the practice squads of the Bengals and Panthers.
Kids today: Cutler is only 32, but he sounded a lot older when asked about dealing with younger teammates, some of whom are only 22 or 23.
"It's tough," Cutler said. "I think kids have changed a lot since whenever I came in [the NFL] in 2006. It's a different animal. These kids with their phones and all the social media, everything that they do. They were telling me that they play video games now and they have another screen where people watch them play video games. I was like, 'I don't understand that. They just watch you play the video game?' They're like, 'Yeah, it's awesome.' I don't know anything about this.
"So you kind of have to get in their world a little bit and get to know them. If you've got to play a few video games with them while people watch them on the Internet, that's what you've got to do."