BOURBONNAIS, Ill. — The Bears generated big plays on both sides of the ball in Friday's training camp practice, which was moved from morning until late afternoon due to heavy rain.
The offense produced a pair of touchdowns in a red-zone drill on nifty back-shoulder throws as Jay Cutler connected with Alshon Jeffery and Josh McCown hit Eric Weems. Back-shoulder throws look easy, but they require quick decisions and precise passes.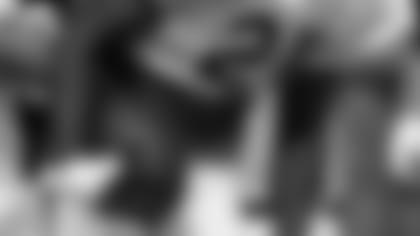 Safety Major Wright runs through a drill during practice Friday in Bourbonnais.
"The biggest thing is [the quarterback] has to measure the receiver's route and the receiver really has to stay on the route," said coach Marc Trestman. "If he stays on the route, then the quarterback can determine the location of the throw by where the defensive back is.
"If he's playing high, he'll back-shoulder. If the receiver can get over the top, he'll try to put the ball over the top. It takes special people to be able to make these throws and measure that kind of trajectory and pinpoint them. Jay and quarterbacks throughout this league are capable of doing that, and it's a very important gift."
The Bears defense countered with a pair of interceptions by safety Chris Conte on a Cutler pass over the middle and by linebacker Blake Costanzo on a McCown throw in the flat. Costanzo returned his pick for a touchdown, celebrating with a leap into the end zone.
The first scrum of training camp occurred midway through practice when nickel back Kelvin Hayden slammed tight end Martellus Bennett to the ground. Bennett jumped on Hayden while safeties Chris Conte and Major Wright came to Hayden's aid. The incident came after Bennett had tussled with Wright during a drill earlier in practice.
"It's practice, it is what it is," Bennett said. "That's what we're here for. Everybody is aggressive, everybody is a little tired, everybody is a little sore. Guys do something you don't like, you just react. I am an aggressive football player. I will never stop being one. I am a blue-collar football player and that is what I always will be and I enjoy playing like that."
After order was restored, Trestman spoke to the entire team at midfield. He later told reporters he was pleased how players responded following the scuffle.
"During the course of training camp, these things will happen," Trestman said. "I don't think it festered, I don't think it lingered. The guys are extremely professional. We moved on to the next play, and it became a highly competitive practice. The guys kept their composure and moved on. That's what we would expect.
"It's going to happen in a game where somebody's going to lose their mind. When one guy does—it's not who he is, he just lost his composure for a minute—the team's got to bring him along and I thought the team did a very good job of pushing through practice and not lowering the effort, but actually the effort was raised and we finished with a very clean practice."
Receiver Brandon Marshall, cornerback Charles Tillman and defensive end Julius Peppers were given the day off, while tackles Jermon Bushrod (calf) and Jonathan Scott (knee), middle linebacker D.J. Williams (calf) and defensive ends Corey Wootton (hip) and Jamaal Anderson (knee) missed practice with injuries.
The Bears waived tight end Brody Eldridge and kicker Austin Signor and signed rookie linebacker Andrew Starks, an undrafted free agent from Princeton. The 6-2, 240-pounder grew up in the Chicago area, attending Plainfield North High School. In addition, veteran free agent tight end Leonard Pope was in for a visit and could be signed.