Mike Tice is pleased with the progress the offense has made during the Bears' three-game winning streak. But even after Sunday's 41-3 rout of the Jaguars, the first-year coordinator isn't satisfied.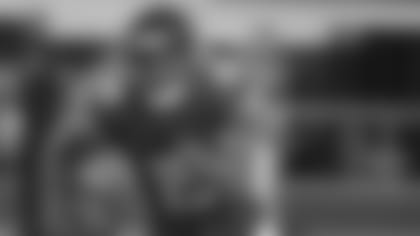 Brandon Marshall has caught 19 passes for 282 yards and two touchdowns in his last two games.
"We're getting there," Tice said Monday night on the Bears Insider show on WBBM-AM Newsradio 780 AM and 105.9 FM. "We've got a ways to go, but we're getting there. We're getting better."
Quarterback Jay Cutler agreed with Tice's assessment, saying Tuesday after practice: "We're getting there. We're not where we want to be, but I don't think many offenses are at this point."
The Bears scored touchdowns on their final three possessions in Jacksonville and amassed 501 total yards, their most in a game since 1989. But they struggled on five first-half drives that resulted in a field goal, an interception and three punts.
"We sputtered around a little bit in the first half," Tice said. "We didn't finish some things the right way. We did control the ball; went up and down the field at times. But in the second half we finished out some drives. We had that nice 94-yard drive that is really encouraging to see that the guys can stay focused and put one together for that long."
Star receiver Brandon Marshall capped the 94-yard march with a 24-yard touchdown reception from Cutler in the fourth quarter.
Marshall had 12 receptions for 144 yards in Jacksonville six days after catching seven passes for 138 yards and one TD in a 34-18 win in Dallas.
"He's a big man, plays with great energy," Tice said. "Right now he and Jay are on the same page most of the plays and continuing to get better and grow together. The offensive line has gotten better and given Jay protection. It enables him to find his open receivers.
"We have a lot of our plays that are designed to go to [Marshall], but we also have secondary options and teams have given us a chance to get the ball to him over the last couple weeks, and Jay's done a nice job of doing it."
Cutler also did a nice job of identifying one-on-one coverage and rifling a 10-yard touchdown pass to rookie Alshon Jeffery in Jacksonville.
"It was a great job by the quarterback managing the play," Tice said. "We have some options on that play. He obviously went to the right option and did a great job, and Alshon made a great catch and [we had] great protection. It was very good execution by the Bears offense."
Jeffery injured his hand on the play and did not return to the game.
"He'll be banged up for a while," coach Lovie Smith said on Bears Insider. "We're still evaluating him. But we know we're going to get him back sometime this year."
In Dallas, Cutler's 34-yard touchdown pass to Devin Hester on the opening possession of the second half gave the Bears a 17-7 lead. In Jacksonville, Robbie Gould's 31-yard field goal on the initial series of the second half put the Bears ahead 6-3, capping a methodical 17-play, 74-yard drive.
"We want to come out hot in the beginning of the game, which we haven't been able to do to this point," Tice said. "We need to continue to work on coming out hot in the beginning of the game.
"But we've been pretty good coming out in the third quarter. We needed to capture that touchdown in that moment, but we'll take the points. We're very pleased with the drive and the physicality of the drive and the way the guys hung in there and hopefully that played a part in getting us going."