After struggling in the second half of last Sunday's season opener in Houston, the Bears offense is focused on improving in at least two key areas Monday night against the Eagles.
"Execution on third down and pass protection," offensive coordinator Dowell Loggains said when asked Friday what the unit must do better in the home opener.
The Bears cruised to a 14-10 halftime lead over the Texans but failed to move the ball while getting blanked in the second half, generating just 71 total yards and four first downs in a 23-14 loss. They were unable to sustain drives because they converted just 2-of-8 third-down chances over the final two quarters.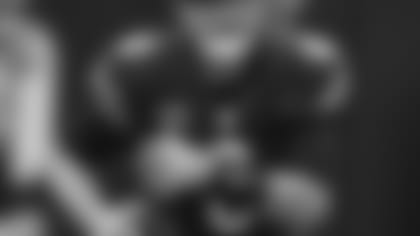 In four career games against the Eagles, Cutler has connected on 76 of 131 passes for 848 yards with eight touchdowns.


"We've got to be more efficient on third down," said quarterback Jay Cutler. "We've got to keep the chains going. We've got to stay on the field."
Cutler was battered by a Texans defense that recorded five sacks—four on third down—and 13 quarterback hits. A week later, the Bears should benefit from an offensive line that appears to be beginning to build some cohesiveness.
Veteran left guard Josh Sitton started the opener in Houston just one week after signing with the Bears, while rookie Cody Whitehair made his NFL debut at center, a position he had played only sparingly during training camp and the preseason.
"The offensive line might be the most communicative position there is, whether it's 'mike' points, slides in protection, changes of plays," said coach John Fox. "So that continuity is really important.
"In Josh's case, the fact he's been in the NFL for so long and played at a high level, that helps him. It's still terminology, different teammates, how you communicate to a guy inside of you and outside of you at the guard position, I think it's critical. Each day I think we continue to get better."
A three-time Pro Bowler with the rival Packers, Sitton is making a smooth transition with the Bears.
"He's a pro," Loggains said. "He's really smart. He's very quickly becoming a veteran leader on our team, especially in the offensive line room, especially on the offense. That helps a lot."
Sitton helped a lot against the Texans despite being with the Bears for only a week.
"It's unbelievable," Cutler said. "To come into here and turn around and have to play that quickly as well as he did, it's a testament to how good of a player he is, how hard he studies and how important is to him."
Cutler views Sitton not only as a talented veteran player but a valuable resource.
"You can't teach some of the stuff that he knows and some of the little nuances," Cutler said. "And coming from a really good offense in Green Bay, he's able to give us some ideas of what they did and what's worked well for him and he's not afraid to voice his opinions, which is good. Some different perspective is good sometimes."
Whitehair also seems to be getting more comfortable in his role.
"I think once you get over that first game, get over that hump, you know what to expect, you get into a little bit of a routine, the nerves die down a little bit," Cutler said. "He battled last week. He's been really good in practice. He owns everything he does out there, which is fun to watch."
The Bears are confident that Whitehair will continue to develop into the player they envisioned when they selected him in the second round of this year's draft.
"Throughout [last Sunday's] game there were a couple sets that looked like a rookie, or first real extreme time at the center position," Fox said. "But even in that game you saw growth and development. So I look for him just to continue to get better really every day in practice and every game in the season."