When the Bears visit the Lions Sunday, offensive coordinator Mike Tice hopes that the offensive line will pick up where it left off in last weekend's 28-13 victory in Arizona.
Despite employing a different starting five for the fifth straight game, the line excelled at run blocking and pass protection as the Bears rushed for 152 yards and allowed only one sack.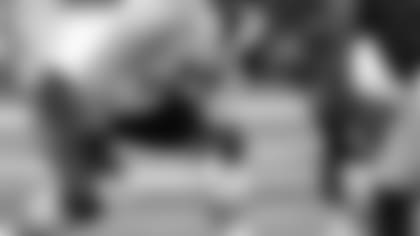 Gabe Carimi was back starting at right tackle last Sunday due to an injury to Jonathan Scott.
"The guys are working diligently to minimize mental errors, which we have, and not be the guy that has his guy in the hole in the run game because we have had throughout the course of the season one guy in the hole in the run," Tice said.
"And guys are really focused and working hard, and they're grown men and they get embarrassed. You don't want to be the one group that is screwing it up for everybody, and they've taken their turns doing that; we all have. So they've been diligent."
Recent additions to the lineup include undrafted rookie James Brown, who has started the last two games at left guard; and veteran Chris Spencer, who opened at right guard in Arizona in place of Gabe Carimi, who returned to his natural right tackle position in place of the injured Jonathan Scott.
"James Brown has come in and although he's made some rookie mistakes, he's bringing some size in there, some aggression, some athleticism and he's really helped us," Tice said. "It was nice to see Carimi go back to right tackle and have a solid game for us too."
Grudge match: Bears defensive tackle Henry Melton apparently isn't a big fan of the Lions.
"They're dirty," the four-year veteran told reporters Wednesday. "They've always been a dirty team since I've been here. I don't like them. They're going to be looking for cheap shots and all that mess. We just have to hold our composure and play the game we know."
Lions defensive tackle Ndamukong Suh is widely regarded as one of the league's dirtiest players, but some individuals on the other side of the ball may also occasionally bend a rule. Like when quarterback Matthew Stafford wrestled Bears nickel back D.J. Moore down by his helmet during an interception return last season at Soldier Field, precipitating a melee.  
"They just try to do all this extra stuff, taking little cheap shots," Melton said. "If you look at the tape, they've always thrown cheap shots. We had a brawl last year. It is what it is. I'm ready."
Melton said that the Lions' biggest talker is veteran center Dominic Raiola, an ex-high school teammate of feisty former Bears center Olin Kreutz.
"He's old and he just talks," Melton said of Raiola. "He's more just cuss words, bad language. He'll throw some cheap shots in there and then he'll say some bad words."
Next man up: After filling in admirably at free safety after Chris Conte pulled his hamstring just before halftime against the Cardinals, Anthony Walters could make his first NFL start in Detroit.
"I'm excited," said Walters, who joined the Bears in 2011 as an undrafted free agent from Delaware. "This is a great opportunity, and this week's a huge game for us just to make the playoffs."
After recording one special teams tackle in four games as a rookie, Walters has appeared in all 15 games this season and is tied for third on the team with 10 special teams tackles.
Before the Bears signed Troy Nolan on Wednesday, Walters was the only reserve safety on the 53-man roster after Craig Steltz was placed on injured reserve Dec. 11 with a chest injury.
"It's frustrating not being out there," Steltz said Wednesday. "When other guys get banged up you want to be able to jump in and make plays, but Anthony will do a great job."
Task at hand: The Bears can earn a wildcard berth Sunday with a win over the Lions coupled with a Vikings loss to the Packers. And while rooting for Green Bay figures to be a little weird, quarterback Jay Cutler insists that the Bears are focused solely on what they have to accomplish.
"We put ourselves in this position," Cutler said. "We can't do anything but wait, but first and foremost we have to beat Detroit. It's not going to be an easy task for us. They played us tough the first time [in a 13-7 Bears win] and this time we are going to get their best shot."