After struggling in the preseason opener against the Broncos, the Bears offensive line performed at a much higher level in Saturday night's 33-31 victory over the Redskins.
"We challenged them all week," said quarterback Jay Cutler. "We challenged them before the game. Everything starts with them. Whenever those guys are playing and doing their job, we can do our job. That was the biggest difference from last week."
After rushing for just 36 yards on 21 carries and yielding six sacks against the Broncos, the Bears gained 82 yards on 22 attempts and gave up four sacks versus the Redskins.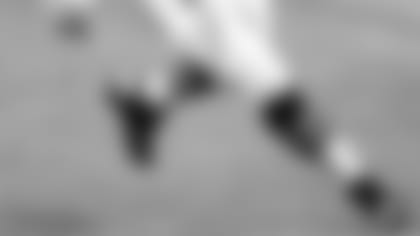 Rookie tight end Evan Rodriguez tallied 62 yards on three receptions against Washington.
"Whenever you have time and are able to do some things in the running game, they gave us a chance," said coach Lovie Smith. "You have to of course go back and watch the video. Things are normally not as good as you think when you have some success and things are not quite as bad too. But I think for the most part, from what I was able to see, we did a decent job."
After mustering 41 yards and three first downs in the first half against the Broncos, the line helped the Bears compile 262 yards and 13 first downs in the first two quarters versus the Redskins.
We knew we had to come out and take a step forward in the right direction, and we did that," said center Roberto Garza. "I think as an offensive line we did a little bit better job. We were far from where we need to, but it's a step."
Stepping up: Rookie tight end Evan Rodriguez had three receptions for 62 yards, including key receptions of 15 and 19 yards to set up Robbie Gould's game-winning 57-yard field goal.
"You've just got to be ready for your opportunity, and I felt like I made the most of it," said Rodriguez, a fourth-round draft pick from Temple. "I'm definitely pretty happy."
After the Redskins turned a 30-10 deficit into a 31-30 lead with three fourth-quarter touchdown passes by rookie quarterback Kirk Cousins, the Bears took over at their own 20 with 2:04 to play.
Undrafted rookie quarterback Matt Blanchard completed 3 of 9 passes for 41 yards to put Gould in position to win the game.
"He did great," Rodriguez said of Blanchard. "The offensive line did a great job protecting and Matt was back there just doing his thing, taking control of the offense."
Long distance: Had Gould's kick—which he lined just over the crossbar—come in the regular season, it would have matched his career long set last season in Denver.
"That's what you're supposed to do; you're supposed to go out there and make kicks," said Gould, who was 5-of-5 on field goals of at least 50 yards last season. "Everyone did a great job from holding, snapping and blocking, and I just got lucky to get it over the bar."
Coach them up:Rookie receiver Alshon Jeffery drew a 15-yard penalty for unnecessary roughness in the first quarter after yanking off Redskins cornerback DeAngelo Hall's helmet.
Asked what he would say to the second-round draft pick, Smith said: "Don't do it. It is kind of as simple as that. We can't have that.
"Thaddeus Gibson also [drew a 15-yard penalty]. You can't do things like that in critical situations. But we will also coach them up. They are young players, especially Alshon. We will coach them up and they will see how that can really hurt our football team."
After catching a game-high four passes for 35 yards against the Broncos, Jeffery had three [ ](http://www.phoenix.edu/campus-locations/il.html?utmsource=Story&utmmedium=instory&utmcampaign=300x100)receptions for a team-leading 62 yards versus the Redskins.
"I am going to talk to him first about all of those good plays he made," Smith said. "He has done a lot of great things in training camp and he is taking that over to the games too."