Veteran defensive tackle Amobi Okoye was happy and excited to be back in the locker room at Halas Hall Monday after signing a one-year contract to return to the Bears.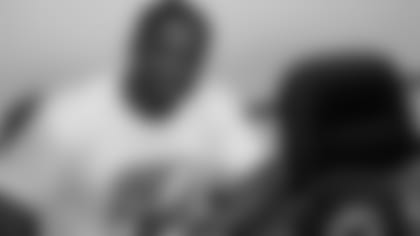 Amobi Okoye signs his contract with the Bears Monday at Halas Hall.
Okoye appeared in all 16 games with one start for the Bears last season, recording 27 tackles, four sacks and two tackles-for-loss.
The 6-2, 292-pounder left via free agency to sign with the Buccaneers in April, but he was cut by Tampa Bay on Friday after being limited in training camp and the preseason by a knee injury.
"It feels great," Okoye said. "It feels like I never left. I'm glad to be back as a Bear and I'm looking forward to a championship season. My heart was always to come back."
To make room on the roster for Okoye, the Bears waived defensive tackle Brian Price, who they had acquired from the Buccaneers July 26 in exchange for a seventh-round draft pick.

"Amobi is one of our guys," said coach Lovie Smith. "There was disappointment when he signed with the Bucs. He's a young football player. Everybody was excited about getting him back. I know he's been injured before down there, but he had a good day of practice today."

Okoye insisted that he will be ready to play in Sunday's season opener against the Colts despite sitting out the final three preseason games with knee soreness. The sixth-year pro told reporters Monday that he returned too quickly after undergoing arthroscopic knee surgery in June.
"I had it like six weeks before camp," Okoye said. "I went into camp a little too early. I should have taken a couple more weeks just getting [through] that stage of recovery with the weight-bearing and resistance stuff. I didn't do that and that's what caused the inflammation.
"After that happened and I played the first preseason game, the training camp and I decided to just cool it down with limited practice until the season started."
As a quick, gap-shooting defensive tackle, Okoye feels that he's ideally suited to play the three technique position in the Bears' defensive scheme.
"It fits like a glove," Okoye said. "Being here last year and knowing what I like to do and what this defense asks of me to do, it's perfect."
Before joining the Bears last year, Okoye spent his first four NFL seasons with the Texans after being selected by Houston with the 10th overall pick in the 2007 draft out of Louisville. He started 58 of 62 games played for the Texans, registering 138 tackles and 11 sacks.

[