As they practiced last week to face the Buffalo Bills, the Bears did not know they would lose two of their starting offensive linemen to injuries in the first half of the season opener. However, thanks to preparation in the preseason and leading up to Sunday afternoon's contest at Soldier Field, the team was ready when those setbacks did occur.
Both left guard Matt Slauson and center Roberto Garza exited the game in the second quarter after sustaining ankle injuries, testing the team's depth up front. In came reserves Michael Ola and Brian de la Puente, each of whom performed well off the bench. Ola, a rookie, made his NFL debut, while de la Puente saw his first reserve action since 2011 after being in the starting lineup the past two-plus seasons with New Orleans.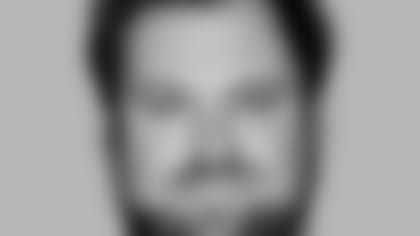 Brian de la Puente
"Even when you're not playing, you have to prepare like you are playing," de la Puente said after the 23-20 overtime defeat. "The centers and the quarterbacks, we spend a lot of time during the week making sure we are all on the same page, because you never know what is going to happen throughout the course of a game. I think everybody really focuses and is on the same page in case anything like that happens."
Both Ola and de la Puente helped spark the Bears offense once they entered the lineup. Ola was the lead blocker on several key plays, including a 13-yard run by Kyle Long in overtime where he created a big running lane for the back to jet through. The former Canadian Football League player had suited up previously for Marc Trestman while with the Montreal Alouettes and was the first lineman off the bench the coach called on after Slauson went down midway through the second quarter.
"I had a job to do, so I stepped in there. I had to do my best Slauson impression," Ola said." I knew going into this week that if anyone were to get hurt, that I was going to have to be ready. So I'm thankful for my preparation and that I was able to step in when my number was called."
De la Puente also played well, anchoring the line that did not allow Jay Cutler to be sacked in 31 passing attempts after halftime. In 2013, the Bears had the same five offensive line starters for all 16 games. Still, line coach Pat Meyer prepares the eight offensive linemen on the 53-man roster as if each is going to see extensive playing time every week, just in case injuries or lineup changes do take place.
That preparation proved to be vital given the overhaul the unit underwent during the game versus a talented Buffalo defensive line. "I think (Ola and de la Puente) did a good job," right tackle Jordan Mills said. "That's why we have a 53-man roster, why we have depth. In our offensive line room with Coach Meyer, we prepare everyone like they are going to start. Unfortunately we had two of our key leaders and starters go down, but you know we have true confidence in whoever comes in. There was no slack at all."
Because both reserves were prepared and ready to go, the Bears did not have to adjust their offensive strategy at all. Mills said that the protection schemes were the same with the backups in than they would have been if Garza and Slauson had remained in the game, and Trestman said that he didn't let the injuries impact the play calls he sent in. Cutler added that he thought the offensive line did a "great job," singling out Ola and de la Puente for stepping in and playing well.
Both Garza and Slauson will be evaluated in the coming days to determine the severity of their respective ankle injuries. With a combined 20 years on NFL experience, the Bears would obviously like them back on the field as quickly as possible. Yet Sunday showed that when called upon, the team does have depth in the trenches.
"I know there are plays that I would like to have back," de la Puente said. "The guys on the line all probably have a few, but you know we were going well. We just have to eliminate mistakes and penalties and always try to get better."