On his 30th birthday Thursday, Kyle Long joked that he felt like an old man.
It's not very funny that many NFL running backs have already started to decline when they reach that milestone birthday. But Forte has shown no signs of slowing down.
Despite missing three games with a knee injury, he leads the Bears in rushing with 676 yards and three touchdowns on 172 carries and has caught 31 passes for 267 yards and one TD.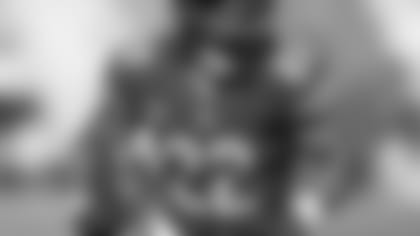 Matt Forte leads the Bears in rushing with 676 yards and three touchdowns.


"I haven't been around him in the past," said first-year offensive coordinator Adam Gase. "I just know for us right now he's playing really well. He's doing some things that I haven't seen many running backs be able to do because he's so good in all three areas of the game for that position."
Forte ranks second to Hall of Famer Walter Payton in virtually every rushing category in Bears history and leads the NFL with 12,374 yards from scrimmage since entering the league in 2008. In last Sunday's loss to the 49ers, Forte rushed for 84 yards and one TD on 21 attempts, and had a 26-yard run nullified by a holding penalty.
"We lean on him," Gase said. "This last game shows you. What did he have, 21 carries, and he was effective in all those rushes and really probably should have had over 100 yards if we don't get that holding call. For us, I feel like he's still playing at a very high level."
Group effort: Forte seems to have benefitted from sharing the workload the last several weeks with rookie Jeremy Langford and second-year pro Ka'Deem Carey. The three helped the Bears rush for 170 yards against the 49ers, the team's highest total since Week 1.
"Our guys have done a great job," said right tackle Kyle Long. "I think [Gase] has done a really good job incorporating all three of those guys with their different playing styles. The younger guys are continuing to progress, and Matt is Matt, which is always great."
The Bears are expected to continue to employ their three-headed monster in the backfield, especially with three of their final four games possibly being played in wintry conditions—they have two contests at Soldier Field and one outdoors in Minnesota.
"I think for where we play and the weather conditions that are probably coming up, it is good to have all three of those guys ready to go," Gase said. "Obviously we are going to be a team that is going to run the ball."
Stepping up: When last Sunday's game against the 49ers was tied 13-13 late in the fourth quarter, the Bears turned to Carey, who responded with two huge runs.
His four-yard touchdown gave the Bears a 20-13 lead with 3:32 left and his 11-yard scamper on third-and-10 enabled the Bears to bleed all the time off the clock and put them in position to win the game with a 36-yard field goal attempt (that Robbie Gould ended up missing).
Asked about Carey playing in crunch time, Gase said: "He's earned it. The way he's played, starting in the preseason, he's done a good job of making sure he's staying on top of the playbook when he wasn't playing. His confidence never wavered.
"Then when he got his opportunity, he made the most of it. You saw this last Sunday we had a lot of confidence. That was his package for the week and we felt good about him going in. He made a great play to get us in position."
Health update: Receiver Marquess Wilson (foot) and outside linebacker Pernell McPhee (knee) did not practice Thursday.
Receiver Eddie Royal (knee), tight end Zach Miller (rib), outside linebacker Sam Acho (shoulder), safety Antrel Rolle (knee) and cornerback Tracy Porter (ankle) were limited.