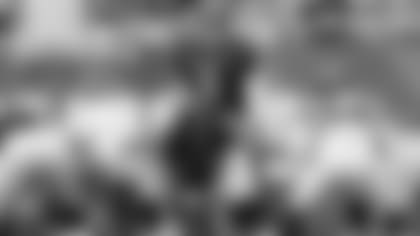 A week after going to Carolina, the Bears (2-3) return to the road to face their second consecutive NFC South opponent when they play the Atlanta Falcons (2-3) on Sunday. Here is a breakdown of the Week 6 opponent:
What's new: Atlanta overhauled its defensive lineup in the offseason, with several new faces appearing on that side of the ball for the Falcons. Four of the team's 11 defensive starters last Sunday at New York are in their first season with the Falcons, including rookie middle linebacker Prince Shembo, with several others playing much larger roles this season than they have in the past. The massive changes haven't helped much. A year ago, the Falcons defense ranked 29th by allowing 6.05 yards per play. This season, they are down to 30th in that category, with opponents gaining 6.08 yards every time they snap the ball. The Falcons are also allowing 28.6 points per game this season, up from 27.7 in 2013.
What's old:** Few teams across the NFL boast the type of passing attack the Falcons have. In Julio Jones and Roddy White, Atlanta has two of league's top wide receivers, both of whom have the size and speed to tear up defenses. Jones leads the league in receiving yards with 552, while White has proven to be a big-play threat, with four receptions of 20-plus yards. Slot targets Harry Douglas and Devin Hester also have shown during their careers to be tough matchups for opposing defenses. It helps that quarterback Matt Ryan is delivering them the ball. Ryan is one of the league's most accurate passers, especially when throwing deep down the field, and is on pace for his fifth consecutive season completing more than 61 percent of his passes. Atlanta's passing attack ranks second in the league, averaging 319.2 yards per game.
Last time out: Second-half struggles cost the Falcons in Week 5, as they were unable to hold a lead against the New York Giants, eventually falling 30-20. Atlanta went into the break leading 13-10, then scored midway through the third quarter to take a 10-point lead. Defensive failures let the team down, as the Giants scored the game's final 20 points, including all 13 scored in the final quarter. It marked Atlanta's second consecutive loss and third defeat in its last four games, each by double-digit deficits.
Series history: The Bears and Falcons have met 25 previous times, with Chicago holding a slim 13-12 edge. In their last game, the season opener of the 2011 season, the Bears won 30-12, thanks to 312 passing yards and two touchdowns from Jay Cutler and a 12-yard interception return for a touchdown by Brian Urlacher. The Georgia Dome has not been a welcoming place for the Bears, especially of late, as the Falcons have won the last two games played there in fourth-quarter comebacks.
Ex-factor: It all starts with Hester, the record-setting return man who electrified Bears fans from 2006-2013. During his time in Chicago, Hester brought back 13 kickoffs and five punts for touchdowns in regular season play, along with his 96-yard kick return score to open Super Bowl XLI. He is the NFL's all-time record holder for non-offensive touchdowns with 20 in his career. Former Bears first-rounder Gabe Carimi, an offensive lineman, is also on the Falcons, as is Eric Weems, who played for Chicago from 2012-2013.
The only former-Falcon on the Bears roster is center Roberto Garza, who played for Atlanta from 2001-2004 after being a fourth-round pick of the team in 2001.
Injury report: Douglas, the tram's slot receiver - who had more than 1,000 receiving yards last season - missed the last two games after suffering a toe injury. If he is unable to play, that would mean a larger role for Hester in the offense. The other big question for the Falcons is at left guard, where Justin Blalock is banged up. He missed the game against the Giants with a back injury.
Did you know?: Hester scored 32 regular-season touchdowns during his time with the Bears – 14 receiving, 13 on kickoff returns and five on punt returns. This season with Atlanta, he has added rushing to his repertoire, scoring on a 20-yard end-around in Week 3 versus Tampa Bay. Finding the end zone in that way made Hester only the second player in league history to record a receiving , rushing, kick return and punt return score during their careers. The first player to do it was Timmy Brown, who played for Green Bay, Philadelphia and Baltimore from 1959-1968.