INDIANAPOLIS – Bears general manager Ryan Pace and his personnel staff are at the NFL Combine this week evaluating about 330 of the top prospects in the draft.
But they're also gearing up for free agency, which begins March 9.
"We have a lot of needs, we have a lot of cap space," Pace said. "We just have to be mindful and strategic with what we do. I feel really good where we're at right now as far as our preparation."
Pace has worked closely getting ready for free agency with director of player personnel Josh Lucas, director of pro scouting Champ Kelly and pro scouts Brad Obee and David Williams.
"They've done a great job of setting our UFA board, and now it's just a matter of being smart and calculated with how we approach it because free agency's risky," Pace said. "We've got to be careful with this. There's going to be certain positions that we're going to be more aggressive at. But I think you've just got to be cautious in free agency because it's a risky area."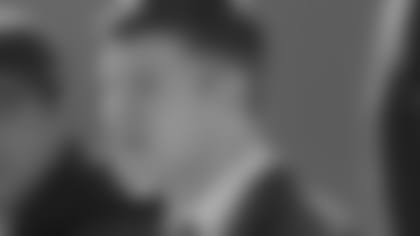 GM Ryan Pace and his personnel staff are at the NFL Combine this week evaluating about 330 of the top prospects in the draft.


The Bears have the salary cap space to be active in free agency, but they're determined not to overspend.
"Part of our challenge is identifying good players and then identifying good values, too," Pace said. "We stack our free-agent board. We identify the players we'd like to target and then we identify salary parameters where we feel they fit in. We know when the gun goes off, we're working outside those parameters and if it gets a little uncomfortable, that's when you have to make a tough decision."
After the Bears lost games by margins of 3, 3, 2, 6, 3 and 4 points last year, Pace said Jan. 4 that the team needs "to add more playmakers to help us finish close games, and we'll do that."
"You're looking for guys that are making critical game-changing plays at critical moments," Pace said this week at the Combine. "When the game's on the line and it's in the fourth quarter, you look at how close all of our games were and all of the games around the league and there are certain players that step up at those moments and we need more of those types of players."
It's no secret that the Bears need more impact players on defense. In 2015, they generated just 17 takeaways—their fewest in a 16-game season—didn't have a player with more than two interceptions for the first time since 1975 and didn't score a return TD for the first time since 1997.
Asked what he'd like to add on defense, coach John Fox said: "Team speed. Explosion. I think those characteristics help make those plays. So I think it's just still getting the right kind of guys and the right kind of guys to represent our city and our organization—but with a highlight on some athleticism and explosion, which I think helps to make plays."
Pace said in January that he believes in spreading out resources in free agency because it limits risk and provides the opportunity to address multiple needs. So don't expect the Bears to put all of their eggs in one free-agent basket.
Their approach likely will be similar to last year when they signed several free agents including outside linebackers Pernell McPhee and Sam Acho, receiver Eddie Royal, safety Antrel Rolle, cornerbacks Tracy Porter and Alan Ball, defensive end Jarvis Jenkins, guard Vladimir Ducasse and center Will Montgomery.
"You've got to be selective and cautious with it," Pace said. "We have a lot of needs right now. Our goal is—and I think a lot of successful franchises—if you're drafting well, you don't have to tread in this dangerous water as much as you would have to early on."