Since receiver Kevin White was selected by the Bears with the seventh pick in the 2015 draft, he has finished each of his first two seasons on injured reserve after undergoing leg surgery.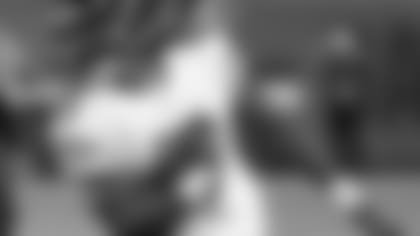 Receiver Kevin White was selected by the Bears with the seventh pick in the 2015 draft.


Despite the ominous start to his career, Bears general manager Ryan Pace still believes that White possesses the same explosiveness that helped him run a blazing 4.35 in the 40 at the Combine.
"This is 100 percent recoverable," Pace said this week.
"It was the same leg, but it was two different injuries. So I feel he's in a really good spot with that right now. He's such a positive outlook guy. Kevin is wanting to go, go, go, go, and I'm always like slow down on this, let's make sure we're doing this right so when you come back everything is in line—your gait, your hips, your hamstrings—so you're ready to go full speed."
White missed his entire rookie season in 2015 with a stress fracture in his left leg. He returned to play in the first four games this season before sustaining a fractured fibula and high ankle sprain in the same leg in a Week 4 win over the Lions.
White was placed on injured reserve after catching 19 passes against the Texans, Eagles, Cowboys and Lions—the most ever by a Bears player in the first four games of a season.
Faith in Fox: During his end-of-season press conference Wednesday, Pace explained why he retained coach John Fox after the Bears went from 6-10 to 3-13 in their second season together.
"I get we're all judged on wins and losses; John is, the whole building is," Pace said. "From Day 1 I said I want us to be a tough, smart, disciplined football team, and I definitely think we're headed in that direction.
"I think some things happened this season that put major stress on the coaching staff and I get that. But for us to get better long term I think of a couple different things; it's developing our talent and it's developing our culture, and I think we're doing both of those things.
"I know this season was hard, and I know there's a lot of lack of patience really around the league, but I believe we're headed in the right direction."
Resilient and tough: Bears chairman George H. McCaskey got emotional during his session with reporters when asked about his mother, Bears matriarch Virginia McCaskey.
"She'll be 94 [Thursday]," McCaskey said. "She has outlived her dad, her mom, her only sibling, her husband and a son. She's had her share of heartache. But she is a remarkably resilient person. I tell people that she's tougher than her dad (George Halas) was, and those who know her don't disagree.
"This is hard for her. Every loss is painful. But she supports what we're doing. She's on board. Like every Bears fan, she wants more wins, and we intend to get them for her."
Important issue: One of the biggest decisions the Bears will face this offseason involves receiver Alshon Jeffery, who is due to become a free agent in March after playing the 2016 season under the franchise tag. The Bears can tag him again, sign him to an extension or let him leave via free agency.
After missing seven games due to multiple soft-tissue injuries in 2015, Jeffery did not sit out any contests in 2016 due to an injury—but he did miss four games because of a suspension for violating the NFL policy on performance enhancing substances. In 12 games he caught 52 passes for 821 yards and two touchdowns.
"He's an extremely talented player that has high expectations for himself," Pace said. "I don't feel like this season he really got into a rhythm that he would have liked to have gotten into. I think that was because of a lot of different quarterback play, and he also missed four games.
"It's hard for him to get in a rhythm and showcase what he can do. Our overall receiver unit, we just lacked availability there. We had a lot of guys in and out of the lineup. That's hard when there's that many receivers coming in and out and that many quarterbacks coming in and on. There's chemistry that has to take place between those two positions. I think Alshon expects more. He's a good player and that's a big decision for us."