Ryan Pace loved his job as Saints director of player personnel and wasn't going to pursue a general manager position elsewhere unless he felt it was a perfect situation.
After declining an opportunity to interview with an AFC team, the 37-year-old found exactly what he was looking for at Halas Hall and was hired Thursday as Bears general manager.
"This is a dream for me," Pace said Friday during his introductory press conference in the George "Mugs" Halas Auditorium. "You only get one first shot, so it better be right.
"I am extremely excited for this opportunity. I embrace the challenge of being one of 32 general managers in the NFL. Our plan will start being put into place to get the Chicago Bears back to sustained success this city deserves."
Pace told reporters that he sensed the Bears would be the ideal fit for him shortly after walking into Halas Hall and meeting chairman George H. McCaskey and team president/CEO Ted Phillips.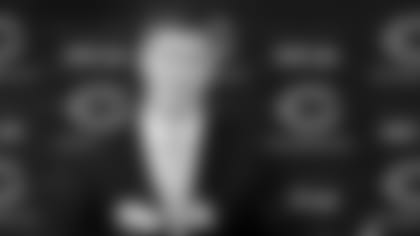 Bears general manager Ryan Pace speaks to the media during his introductory press conference.
"I'm telling you I feel it here," said Pace, an Eastern Illinois graduate. "This is going to be set up to win and sustain success. I'm excited about it. Once I got into the building—I met ownership, the historic franchise, the city of Chicago, coming back to Illinois, my wife is from here—everything just felt right. I trust my instincts and my gut and that's why I'm here."
Pace was one of four candidates to interview for the general-manager position. The others were Chiefs director of player personnel Chris Ballard, Texans director of pro personnel Brian Gaine and Titans vice president of player personnel Lake Dawson.
"We researched many candidates and we brought four strong individuals to Halas Hall for interviews and Ryan Pace stood out to be the best," Phillips said. "He has the intelligence, the passion, the integrity, high character and toughness to be a strong leader and to make an immediate and lasting impact.
"When I think about building an organization for continued success it all comes down to bringing in the right people and I'm happy to say we have found the right man to lead us in our football operations."
Pace has spent the last 14 seasons with the New Orleans Saints, including the past two years as director of player personnel. Prior to that, he served as an operations assistant (2001), scouting assistant (2002-03), pro scout (2004-06) and director of pro scouting (2007-12).
During Pace's 13 seasons in the Saints' personnel department, they compiled a 115-93 record. Since 2006, New Orleans has reached the playoffs five times, won three division titles, played in two NFC Championship games and won the franchise's first Super Bowl title.
"He has a clear vision and a plan to build a championship team," Phillips said. "He was an integral part of a consistently winning organization in New Orleans and he learned the value of hard work, enjoying his job and the importance of being a team so that every employee not only bought into his vision but knows that their contribution to success matters."
At 37, Pace is the NFL's youngest general manager. But he doesn't see his age as a detriment, pointing to Seahawks general manager John Schneider, who was 38 when he was hired in 2010.
"I lean on my experiences in New Orleans," Pace said. "Yeah, I'm 37. But I've seen a lot in those years, I think a lot more than a lot of people have with a lot of teams and throughout that time we've been a successful franchise. So I don't look at my age; I look at my experience in New Orleans. There are other GMs that started off at a similar age. I can think of one right now who won the Super Bowl last year, so it doesn't concern me."
Up until a few days ago, Pace expected to be preparing the Saints for the offseason. But that all changed Wednesday when he interviewed for the position he ultimately landed with the Bears.
"I was in a good situation in New Orleans," Pace said. "I worked with great people there in a good environment. I wasn't one of those guys looking to jump to the next job.
"This was a very thorough and calculated decision by me and my family, and that's because this is a historic franchise that desperately wants to win and they're willing to do whatever it takes for that to happen—and I want to be leading that charge."