The Bears accomplished one of their offseason objectives in late March when they signed free agent offensive linemen Manny Ramirez and Ted Larsen.
Speaking to the media Wednesday for the first time since adding the two veterans, general manager Ryan Pace discussed why the Bears made the moves.
"Both Larsen and Ramirez are veteran guys who have starting experience who can play guard and center," Pace said. "So it gives us [flexibility] inside. We were looking for that."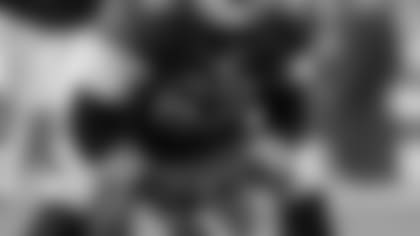 Offensive lineman Ted Larsen has started 57 games in six seasons with the Buccaneers and Cardinals.


Ramirez has started 65 games over eight NFL seasons with the Lions and Broncos, 26 at center, 24 at right guard and 15 at left guard. Larsen has opened 57 contests in six seasons with the Buccaneers and Cardinals, 37 at left guard, 11 at center and nine at right guard.
With Kyle Long expected to move back to right guard this season, Ramirez and Larsen likely will battle with left guard Matt Slauson and center Hroniss Grasu for starting positions.
"Our goal not just there but everywhere is to just keep on increasing competition," Pace said. "If there's one word I can stress this offseason, it's competition. We need to create better competition throughout our roster, and that was definitely a focus on the offensive line."
All pass rushers welcome: As they prepare for the draft, the Bears aren't looking strictly at defensive players who appear to only fit in 3-4 schemes.
"We're a 3-4 base, but we're in sub 60 percent of the time now," Pace said. "When that's happening, three receivers are on the field and a lot of times it's a four-man front. So some of these guys who you might want to write off as, 'hey, these are 4-3 techniques,' well they can fit in sub packages in certain situations if they're good pass rushers."
Feeling the love: During an appearance on The Dan Patrick Show Tuesday, Ohio State running back Ezekiel Elliott was asked to name the NFL team most in love with him entering the draft. His answer: the Bears.
Elliott no doubt feels the love from Bears running backs coach Stan Drayton, who served as Elliott's position coach his first three seasons at Ohio State.
"It didn't surprise me because of Stan Drayton," Pace said. "Stan recruited him out of high school, so he's known him for a long time, has a relationship with the family, and I know how those two feel about each other, so it didn't really surprise me at all."
Different flavors: While California's Jared Goff and North Dakota State's Carson Wentz are expected to be selected with the first two picks in the draft, they aren't the only quality quarterbacks available.
"It really is a good class of quarterbacks, and they're all unique and they're all a little different," Pace said. "I think some guys are going to have different perspectives of different flavors, but it's a good class. It breaks after a certain point and then there are some middle-round guys that are intriguing for different reasons. It's just up to us to analyze that and rank that correctly and I think we have."