INDIANAPOLIS – General manager Ryan Pace and the Bears are keeping all of their options open as they prepare to address the all-important quarterback position this offseason.
"At this point we pretty much have everything on the table," Pace told reporters Wednesday at the NFL Combine. "For us to do it the responsible way, that's necessary."
Veteran Jay Cutler is under contract through 2020, but his future with the Bears is uncertain. The four other quarterbacks on the roster—Matt Barkley, Brian Hoyer, Connor Shaw and David Fales—are all due to become free agents next week.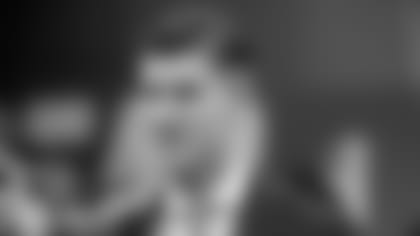 GM Ryan Pace and the Bears are keeping all of their options open as they prepare to address the all-important quarterback position this offseason.


The Bears will explore all avenues in their quest to stabilize the position, including free agency, the draft, the trade market and players on their own roster.
"There are a lot of scenarios right now and there are a lot of different things that can happen," Pace said. "It is fluid and it's fluid throughout this week and as we approach free agency and even after free agency. It's our responsibility to have a plan in place—which we do—that's flexible and adaptable as the landscape is changing and that's kind of where we're at."
Cutler was limited to just five games in 2016, completing 81 of 137 passes for 1,059 yards with four touchdowns, five interceptions and a 78.1 passer rating. He missed five contests with a thumb injury he suffered in Week 2 and sat out the final six games with a shoulder injury.
While Cutler has set virtually every Bears passing record in eight seasons in Chicago, he has posted a mediocre 51-51 record as a starter and won only one playoff game.
Pace on Wednesday described Cutler's situation as "fluid" and revealed that "there are a lot of conversations going on" between the Bears and the quarterback's agent, Bus Cook.
"One of the things with Jay I value is his agent, Bus Cook," Pace said. "We're close and I think at times like these that relationship is important because we can be honest and transparent. I think he's one of the top agents out there and that helps in this process."
Pace revealed that while Cutler has yet to be cleared to return from his shoulder injury, he is "ahead of schedule" and "far along in his rehab."
No Bears quarterback performed better in 2016 than Hoyer, who replaced Cutler and became the first player in franchise history to pass for at least 300 yards in four straight games. Hoyer threw for 1,445 yards with six touchdowns, no interceptions and a 98.0 passer rating before being lost for the season with a broken arm sustained in a Week 7 loss to the Packers.
"He played well," Pace said. "He's recovering fast from his injury and I thought he played solid. He's part of the big equation that we have right now."
An eight-year NFL veteran, Hoyer joined the Bears a year ago after passing for 2,606 yards with 19 TDs, seven interceptions and a 91.4 passer rating in 11 games with the Texans in 2015.
"Brian's unique in that he makes very quick decisions," Fox said. "He's very smart, been in a lot of different systems. He's been on the field a lot in the NFL. I thought he did a good job."
In addressing the quarterback position this offseason, Pace will have to consider team chemistry.
"You want a good mix in that room," he said. "I don't think there's any position room that's more important than the quarterback room and who you have in there and how those guys work together. We do in our minds have an ideal mix of how that room can come together."
When evaluating quarterbacks, Pace conceded that their win/loss record is a key factor.
"I think you want a guy who has elevated his program," Pace said. "I know I've talked about this player a lot because he had a big impact on me. But I think about [Drew] Brees when he was at Purdue. He elevated that program. He took them to the Rose Bowl. I think that means something. I think that's something that we have to pay attention to."
Asked what he looks for in a quarterback, Fox said: "A guy that raises all boats as far as work ethic. When the horn goes off, he's not track shoes out of the building. We call it first-in, last-to-leave type of mentality. That raises all boats with your teammates. Successful teams I've been a part of had that intangible and that's something we're trying to build on."