PHOENIX – Mike Glennon first appeared on general manager Ryan Pace's radar years before the Bears signed the free-agent quarterback to a three-year contract earlier this month.
In fact, Pace has been a Glennon fan since the quarterback was at North Carolina State and Pace was working in the Saints personnel department.
"I've liked Glennon since college," Pace said this week at the NFL owners meetings in Phoenix. "We would talk about him all the time in New Orleans, obviously through the draft process but also, hey, was there ever an avenue to trade for this player? And honestly those conversations continued with me when I got to Chicago because he has a lot of the traits that we value."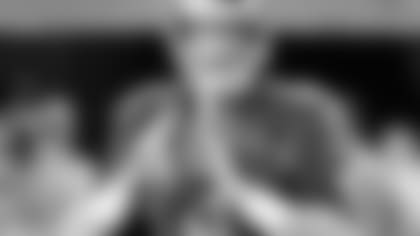 Glennon first turned heads as a junior at North Carolina State where he passed for 3,054 yards and 31 touchdowns.


Glennon first turned heads as a junior in 2011 when he replaced Russell Wilson as North Carolina State's quarterback and passed for 3,054 yards and 31 touchdowns. Glennon followed a year later by throwing for 4,031 yards and 31 TDs as a senior.
"He's very intelligent," Pace said. "He studies a ton of tape. He's a really hard worker and you can feel those things and he's really good at processing the field and seeing information quickly.
"We talk about the traits we value in a quarterback whether it's arm strength or release quickness or accuracy. But the ability to process and go through your progressions quickly and identify coverages, some guys just think quicker than others and I think that he can process information quickly and make the right decisions with the football. Sometimes that might mean the check down or throwing it away when necessary, and that's OK."
Bears coach John Fox has also followed Glennon's career since college—Fox coached the Panthers in Charlotte during Glennon's first two years at nearby North Carolina State—and is impressed with the 6-6, 225-pounder.
"I think Mike's a little more athletic than people give him credit for, just because he's tall," Fox said. "He's accurate, can make all the throws, strong arm and a really good guy."
Selected by the Buccaneers in the third round of the 2013 draft, Glennon started the final 13 games of his rookie season, connecting on 59.4 percent of his passes for 2,608 yards with 19 TDs, nine interceptions and an 83.9 rating.
When Lovie Smith became Tampa Bay's head coach in 2014, he installed newly-signed free agent Josh McCown as the starter, relegating Glennon to backup duty. After McCown was sidelined with a thumb injury, Glennon played in six games with five starts, passing for 1,417 yards with 10 TDs, six interceptions and an 83.3 rating.
Glennon remained in the No. 2 role the past two seasons after the Buccaneers chose quarterback Jameis Winston with the No. 1 overall pick in the 2015 draft. Glennon did not play at all in 2015 and threw just 11 passes last season, all in one game.
Fox insisted he's not concerned that Glennon is heading into an NFL season as a starting quarterback for the first time in his career.
"It's no different than the first time for anything for anybody," Fox said. "It's a leap of faith to some degree, but I think you do that in a lot of different positions and evaluations of personnel and people. The big thing with him is that he has been in NFL football games. He has been in a lot of systems and around different players and personalities and I think handled it well.
"He's been steady, he's been consistent. He just hasn't had a lot of opportunity. But everybody that I've known that's been around him both in college football and pro football—people that I respect and know pretty well—feel really good about him moving forward."