INDIANAPOLIS – The Bears lost one of the NFL's top young assistants when offensive coordinator Adam Gase departed in January after one season to become Miami Dolphins head coach.
But that doesn't mean that the Bears offense will regress in 2016—not with Dowell Loggains being promoted from quarterbacks coach to replace Gase.
"[Loggains] is a heck of a young coach," coach John Fox said Wednesday at the NFL Combine. "He's got a great background. He's worked with people philosophically that I share ideas with offensively. I thought he did a tremendous job with Jay [Cutler]. That was a big reason for Jay's success [last] year."
In his first season with the Bears in 2015, Loggains helped Cutler post a career-high 92.3 passer rating and reduce his interceptions from 18 in 2014 to 11. During the final week of the season, Cutler described Loggains as "extremely talented" and "bright" with "a lot of energy."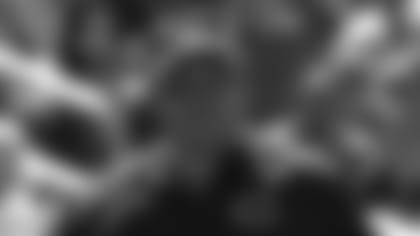 Dowell Loggains was promoted to replace Adam Gase as offensive coordinator.


Asked about Cutler and Loggains at the Combine Wednesday, Gase said: "When they hit the field, there's something special between those two guys."
Replacing Gase with Loggains will enable the Bears to maintain continuity for Cutler, who will work with his sixth different coordinator in eight seasons with the Bears.
"That was part of it because we feel Jay played well last year," general manager Ryan Pace said Wednesday. "We feel he's going to play even better next year, and having Dowell in place kind of continues that progression."
While the continuity is important, it wasn't the only reason the Bears decided to give Loggains the keys to their offense.
"Dowell's a really good coach," Pace said. "He's really intelligent. He's got a lot of new ideas. He's very confident. So it wasn't just about keeping continuity. It was also hiring the best guy and we feel Dowell is definitely that. I'm excited for some of the new wrinkles and some of the new ideas he's got."
Loggains joined the Bears after serving as Browns quarterbacks coach in 2014. He spent the prior eight seasons with the Titans as a coaching administrative assistant (2006-07), offensive quality control coach (2008-09) and quarterbacks coach (2010-12). Loggains was elevated to offensive coordinator for the final five games in 2012 and served in that role for the entire 2013 season.
Loggains entered the NFL in 2005 as a scouting assistant with the Cowboys.
"He's got great people skills," Fox said. "He's done it; he's been a coordinator before. He's done the scouting part and it's hard to be a good coach if you can't be a good evaluator. You have to evaluate your team, who you keep. I just like his background and I think he's a bright, young coach."
Fox has enjoyed working with Loggains in his new role.
"I've liked what I've seen," Fox said. "We've been in a lot of meetings. Obviously when you're not in the playoffs you have a lot more time to do that stuff, unfortunately. We've completed our staff. We've got everyone together. We have some new pieces and he's very organized, very structured and I just like the way it's going."
As a Cowboys scouting assistant in 2005, Loggains' duties included assisting with opponent film breakdown, self-scouting and statistical analysis to be used in game-plan preparation.
"One thing I like about Dowell is he came into the league as a scout, so I'm kind of biased towards that a little bit," Pace said. "He understands personnel and he understands player development—how guys fit into different roles—so we're excited about that.
"When we sign or draft a player and we are able to describe and say, 'OK, these are his skill sets,' it's him saying, 'OK, well this is the role I can put him in and this is how I can maximize his skill sets.'"