After being hired by the Bears last January, general manager Ryan Pace and coach John Fox didn't immediately commit to Jay Cutler as their quarterback.
Pace and Fox knew what Cutler could do on the field but wanted to get to know him off the field before making a decision on his future with the team. After spending a few weeks with Cutler, they chose to stick with him as their starter.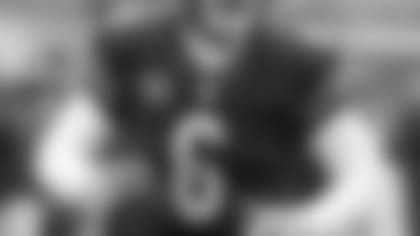 Quartback Jay Cutler had arguably his best season since joining the Bears.


A year later, no vetting period is necessary. Pace and Fox remain firmly committed to Cutler after he had arguably his best season since joining the Bears in 2009.
Despite a rash of injuries that decimated the offense at receiver and tight end, Cutler posted a career-high 92.3 passer rating in 2015, completing 64.4 percent of his passes for 3,659 yards with 21 touchdowns and 11 interceptions.
"I think Jay played really well this season," Pace said. "I was happy with his performance, especially with a lot of injuries to our skill players. I think he kind of persevered through that. Jay played well."
Cutler developed an excellent rapport with first-year offensive coordinator Adam Gase, who helped the quarterback greatly reduce his turnovers. Gase is an in-demand head-coaching candidate who's spending the week interviewing with multiple NFL teams. But the Bears aren't worried about Cutler regressing if Gase leaves.
"We have extreme confidence in Jay," Pace said. "I wouldn't say that's the case at all. If Gase leaves or not, we can do a lot of things similar offensively too.
"In regards to staff leaving and coaches leaving, we're always going to try to hire the best human talent. When guys are leaving here, that's going to happen when we're doing good things. It's up to us to find the best replacements."
The Bears will have to eventually find a replacement for Cutler, who is 32 years old. His presence as the entrenched starter won't preclude Pace from drafting a quarterback, something the franchise has not done in the first four rounds since selecting Kyle Orton in the fourth round in 2005.
"I think Jay knows that we have extreme confidence in him, and we're going to continue to build the offense around him," Pace said. "I think he also knows that we're always going to draft best-player-available too and acquire as much talent as we can.
"We've been very open and honest with all our players. But we have a ton of confidence in [Cutler]. He played well this year. The turnovers were down and he was athletic and extended plays with his feet and did a lot with a lot of injuries at all our skill positions."