MOBILE. Ala. - It's been a productive week at the Senior Bowl for the Bears, who conducted their third and final practice with the North team Thursday in advance of Saturday's all-star game.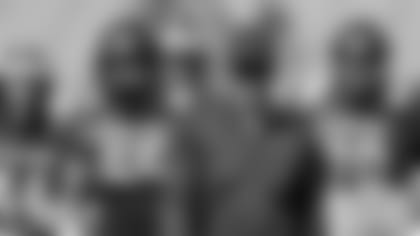 Bears coach John Fox leads the North team onto the field Thursday at Ladd-Peebles Stadium.


"It's been awesome," said general manager Ryan Pace. "We knew this would be a benefit coming down here. But being here full-fledged has been huge. Being in the meetings, not just with our coaches but all our scouts, has been really good.
"Our coaches have done a good job of kind of creating an environment where we're getting the players to talk more. So we're really getting a good feel for their football intelligence."
Working closely with more than 50 of the nation's top NFL prospects this week has given the Bears a big boost in terms of their draft preparation.
"There's definitely a huge benefit," Pace said. "There are certain things where you come in with some preconceived thoughts and then you get here and then some of those things are either confirmed or maybe it makes you take a little closer look at somebody else we weren't talking about."
Pace told reporters that the Senior Bowl is probably his favorite aspect of the pre-draft process.
"It's real football," he said. "It's not just Combine work. It's not guys in shorts. It's real football. We get to see their instincts and their toughness and their physicality and how fast they're picking up our offense and defense, so this is probably my favorite part."
Spending so much time with the North team this week will give the Bears a chance to evaluate so much more than on-field performance.
"It's not just [players interacting] with our coaches and our scouts," Pace said. "It's having them with our support staff; so talking to our equipment manager, Tony Medlin, or talking to Nate Breske, our head trainer. How a guy treats your third trainer can be a little revealing, too, instead of just how they're talking to me or how they're talking to coach [John] Fox."
Coaching the Senior Bowl has given the Bears a chance to run prospects through specific drills that demonstrate what type of traits they possess.
"There are ways to isolate these guys into athletic movements that we want to see," Pace said. "We were just talking about that with the corners. There are things that you can do that can kind of expose them, whether it's their hip stiffness or their plant-and-drive quickness. [The coaches] will do things to kind of exploit that good or bad."
The Bears will swap teams with the Browns for a period of time Friday and meet with the South squad, which will give them in-depth information about more than 100 of the top prospects in this year's draft.
"This definitely gives you a boost," Pace said. "Everybody's locked in right now. Everybody understands the importance of this offseason and having the ability to coach the Senior Bowl is huge for where we're at right now."