Actions may speak louder than words, but Bears general manager Ryan Pace used both avenues to show his commitment to quarterback Mike Glennon Friday at Halas Hall.
After signing Glennon to a three-year contract, Pace told reporters that the 27-year-old's name will be inscribed atop the team's depth chart at the most important position on the field.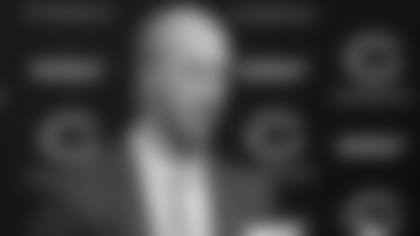 New Bears quarterback Mike Glennon speaks to the media Friday at Halas Hall.


"Mike Glennon's our starting quarterback and we're fired up about that," Pace said.
Glennon appeared in 21 games with 18 starts the past four seasons with the Buccaneers after being selected by Tampa Bay in the third round of the 2013 draft out of North Carolina State, throwing for 4,100 yards with 30 touchdowns, 15 interceptions and an 84.6 passer rating.
"I've liked Mike ever since N.C. State," Pace said. "Being in the same division [in the personnel department] at New Orleans was beneficial, being up close.
"He's a big quarterback with a strong arm. But beyond that, [he possesses] all the other traits that I value at the position—we all value. He's intelligent, he can quickly process, he can see the field, he's accurate, he gets the ball out quick. So there are a lot of traits about him I like."
Pace said that signing Glennon won't preclude the Bears from selecting a quarterback in next month's draft but conceded it could change which round that player is chosen.
"We're going to take the best player at every pick, so it could [affect where a quarterback is drafted]," Pace said. "The best thing about free agency is if we can address some of our needs it opens up the draft for best player available and when we do that it's just increasing our odds."
Not done: The Bears signed four free agents Friday in Glennon, safety Quintin Demps, tight end Dion Sims and receiver Markus Wheaton—but Pace said the team isn't done adding players.
"The process is still ongoing," he said. "A lot of things are happening right now; plenty of avenues to still improve our team, whether it be the second- or third-tier free agents, trades and obviously the draft's upon us. So there's a lot ahead of us and that's exciting."
Pace reiterated that the Bears view free agency as a way to fill their most pressing needs but remain committed to constructing their roster through the draft.
"Free agency is part of our plan, but it's not the entire thing," Pace said. "The entire thing is building this the right way. A lot of times, that's supplementing free agency and building this team through the draft. That's really our focus. We want to be responsible through this process, disciplined through this process, and I feel like we've done that and improved our team."
Staying disciplined: Pace spoke last week about the delicate balance between being aggressive and being responsible in free agency, saying "you can always recover from the player you didn't sign; you can't recover from the player that you signed at the wrong price."
Those words no doubt were coursing through his mind Thursday when the top two free-agent cornerbacks were breaking the bank. Stephone Gilmore signed a five-year, $65 million contract with the Patriots, while A.J. Bouye received a five-year, $67.5 million deal from the Jaguars.
"With all of these things, it's important to be disciplined during these time periods," Pace said. "We come to price parameters and where we think they are and sometimes it exceeds those. That's OK, but sometimes it can grossly exceed those and you've just got to be mindful when you're doing that. We discussed multiple options at corner, but you've got to be disciplined."
Pace was asked about reports that the Bears have agreed to terms with cornerback Prince Amukamara, who played five seasons with the Giants before joining the Jaguars last year.
"That's kind of coming down the pipeline now," Pace said. "Nothing's finalized but it's a guy we've liked over the years. Hopefully he'll be in here tonight or tomorrow."