Since being hired as Bears general manager in January, Ryan Pace has been impressed with how hard veteran quarterback Jay Cutler has worked.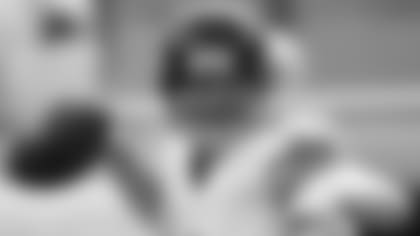 Quarterback Jay Cutler is entering his seventh season with the Bears.
"The thing that stands out to me really with Jay—and I didn't know Jay until I got here—is honestly his work ethic," Pace said Monday night on "The Bears Coaches Show" on WBBM Newsradio 780 and 105.9 FM.
"He is grinding to master this new offense. He and [offensive coordinator] Adam Gase are attached at the hip. So [Cutler's] commitment to the offense and his passion for the game really do stand out to me. I'm excited about the combination of him and Gase together.
"I know we've got a lot to do a lot of things to complement him, and that's protecting the quarterback and physically running the football and playing good defense. But Jay's work ethic has been outstanding."
Gase and Cutler have known each other for nearly a decade. When Gase was an offensive assistant with the Lions in 2006, he picked up Cutler at the airport when the quarterback made a pre-draft visit to Detroit. The two later reunited for a couple of months with the Broncos in 2009 before Cutler was traded to the Bears.
Gase is the fifth different coordinator Cutler has worked with in seven seasons with the Bears, following Ron Turner, Mike Martz, Mike Tice and Aaron Kromer.
Last season Cutler passed for a career-high 28 touchdowns, but he tied for the NFL lead with 18 interceptions and topped the league with 24 turnovers. Operating Gase's offense this summer, Cutler threw just one interception in 12 practices in Bourbonnais and none in three preseason games.
Cutler figures to benefit from a more balanced offense than the pass-happy scheme he operated the past two seasons—much like he did from 2010-12 with the Bears when he compiled a 27-13 record as a starter.
"If you get into the habit of dropping back every single down and passing the football, the defensive line is pinning their ears back," Pace said. "It makes it difficult on your offensive linemen. We all know when you're running the ball, play-action, sprint-outs, boots, all those things come into effect.  
"I also think when you're playing a team with a powerful offense on the other end, running the football you can control the clock and that's important. So we've got to win the turnover margin, we've got to run the football and we've got to play tough, physical Bears defense and get back to that."

Roster move: In other news Tuesday, the Bears terminated the practice squad contract of running back/fullback Paul Lasike, an undrafted rookie who was waived by the Cardinals.
Lasike grew up playing rugby in New Zealand before being introduced to football at BYU, where he rushed for 843 yards and 10 touchdowns on 171 carries, caught 31 passes for 322 yards and two touchdowns and returned 15 kickoffs for 301 yards in three seasons.