General manager Ryan Pace discussed several topics during an appearance on this week's edition of the Bears All-Access radio show. Here's what he had to say:
On receiver Kevin White's return from injury:
"Just watching him over the last couple weeks, he's 100 percent full speed. He's got great acceleration off the line. He's got great leaping ability to go attack the ball; all the things that we saw in college. But in addition to that, he's an outstanding worker. He's got a great personality. He's kind of infectious to be around and I couldn't be more proud of how he approached his rehab and how hard he's working now and the chemistry that he already has with Jay Cutler and our other receivers. It's exciting to see. We're all just pumped up going forward. It is like having another first-round pick this year."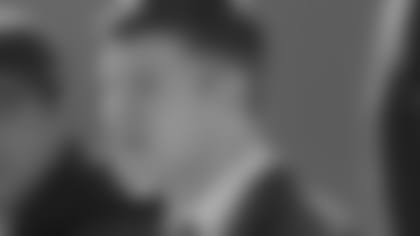 Bears general manager Ryan Pace


On Alshon Jeffery not participating in the voluntary offseason program:
"I've talked to him and his agent a lot. He's down in Miami training. I know he's working hard. He's a pro. This is voluntary as you guys know, so that's kind of on him right now. But we're in communication. We just take it day-by-day and step-by-step. A lot of the guys with franchise tags haven't reported to their teams, so it's kind of par for the course right now. But we're working through it and I don't want to come to any conclusions right now. It's kind of a day-by-day process."
On signing first-round draft pick Leonard Floyd:
"You've seen more and more of these top-10 picks coming in and as we speak. I know myself and Joey Laine have been working hard on it. I don't think it will be very long. He's here. He's working. And I don't anticipate that dragging out too much longer."
On Joe Douglas leaving the Bears for the Eagles and Mark Sadowski replacing him as director of college scouting:
"It's a testament to hiring good people. When you hire good people and they do a good job, you're going to lose some people. We've got talented people behind him to step up, and I'm excited about Mark Sadowski. He's definitely earned the opportunity, and he's done a great job for us. He was covering the whole southern portion of the country for us, so he covered a strong area. But I'm happy for Joe Douglas. He gets a big promotion and gets to go back home and it's well-deserved for him as well. We're fired up going forward. It's always good to promote from within. I think it's good for the morale of the building and it's good for our scouting department."
On the addition of veteran backup quarterback Brian Hoyer:
"When he became available, we were excited, obviously from the tape work we had done. In addition, [offensive coordinator] Dowell [Loggains] had been with him in Cleveland and [quarterbacks coach] Dave Ragone has history with him. So we had a lot of background with the player, which really helps in your decision process, and as you know he's got a lot of skins on the wall. He's been a productive player when he's played. His touchdown/interception ratio was very strong last year. He's just a great guy to add to the room. Those guys are always together 24/7 watching tape. Him and Jay have already hit it off. So it's good to see him out there practicing. I think competition throughout the roster is critical, and especially at the quarterback position, too. So it's good, and he's a pro, and we're glad to have him on board."