When the Bears signed free agent Pernell McPhee in March, the outside linebacker told general manager Ryan Pace that he lives by three h's: humble, hungry and hard-working.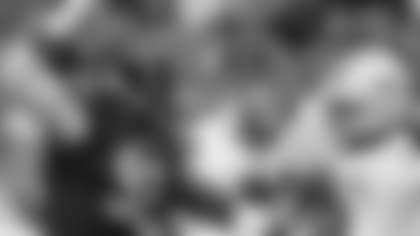 Outside linebacker Pernell McPhee rushes the passer in the Bears' preseason opener versus the Dolphins.
Opponents would probably add "harmful" to that list describing the 6-3, 275-pounder, who joined the Bears after spending his first four NFL seasons with the Baltimore Ravens.
"I know this has been said a lot when you're talking about him and I love this word when you're talking about defense: He's a violent player," Pace said Monday night while appearing on "The Bears Coaches Show" on WBBM Newsradio 780 and 105.9 FM.
"Some guys hit the quarterback and, hey, it's a sack. Some guys hit the quarterback and it hurts, it physically hurts the opponent and that's what he brings. He's a physical, aggressive player."
McPhee blossomed last season with the Ravens, establishing career highs with 7.5 sacks, 27 tackles, 11 tackles-for-loss and four pass breakups. In training camp this summer in Bourbonnais, McPhee said he hoped to help the Bears defense put fear into opposing offenses.
"I think guys feed off [his attitude]," Pace said. "He has that approach every single day. He's a difficult guy to block, no doubt. But he's well-rounded in the run defense, the pass defense, and I really believe that his attitude and the way he plays is infectious to the rest of the defense. The more kind of players like that we can add, the better we're going to be."
Health update: More will be known about ailing Bears receivers Alshon Jeffery (calf), Eddie Royal (hip) and Marquess Wilson (hamstring) Wednesday when the first injury report of the week is released in advance of Sunday's season opener against the Packers.
Appearing on the same radio show as Pace—held before a live audience of Bears season-ticket holders at the Walter Payton Center—coach John Fox was asked how optimistic he is that the receivers will be able to play Sunday.
"It's a healing process," Fox said. "Everybody's different. People handle pain differently. People heal faster than others. But we've got a shot with all of them. That's the biggest thing that I look at."
No worries: Pace told the fans he isn't concerned that the Bears have not named a starting right tackle to replace Jordan Mills, who was waived Saturday as part of final cuts.
"We've been experimenting with different lineups throughout the entire training camp," Pace said. "Our goal is to get the best five on the field and those guys have practiced so much together. You might not have seen it all in preseason games, but I promise you we've tried all the different lineups in practice and we're optimistic going forward."
Fox indicated that the Bears don't plan to announce their starter at the position to make game preparation more difficult for the Packers.
"I don't know if it was growing up as a military kid, but I just never thought you gave the enemy information," Fox said. "I don't think it's that complex. At the end of the day I think fans want to win and sometimes people ala the media think the fans want to know everything. Well, I think they just want to win on Sunday."
New additions: Pace provided insight about the two players the Bears claimed off waivers Sunday, offensive lineman Patrick Omameh (Buccaneers) and safety Jonathan Anderson (Cardinals).
Omameh started all 16 games at right guard for Tampa Bay last season. The 6-4, 306-pounder entered the NFL in 2013 with the 49ers as an undrafted free agent out of Michigan.
"He's a versatile player," Pace said. "He can play guard, he can play tackle. He's a tough, physical player. I think he definitely upgrades our offensive line right now, especially with his versatility."
Jones-Quartey, a 5-11, 215-pounder, signed with the Cardinals this year as an undrafted free agent from Findlay, a Division II college in Ohio.
"The thing that really jumps out with this guy is how competitive and tough he is," Pace said. "This guy is a physical hitter. So immediately he helps us on special teams, and just the energy and the physical nature he plays with, that's the kind of guys we're trying to accumulate here to get better."