Struggling to generate a consistent pass rush, the Bears would greatly benefit from the return of defensive tackle Stephen Paea Sunday when they visit the Redskins.
No one is more aware of the situation or eager to help than Paea, who hopes to return to the starting lineup in Washington after missing the last two games with a toe injury.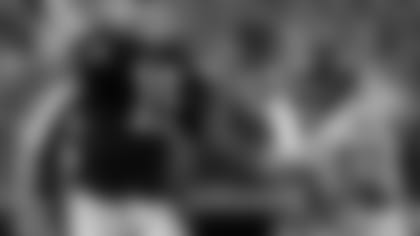 Stephen Paea pressures Raiders quarterback Matt Flynn during a preseason game this summer.
"I've got to step up," Paea said. "That's the bottom line—I've got to step up and fill the role; just go out and have some swag in there and be comfortable out there."
The Bears have been decimated by injuries at the defensive tackle position, losing Henry Melton and Nate Collins for the season with torn ACLs. They've tried to fill the void by moving Corey Wootton inside from his natural defensive end position to the three technique.
"We have Nate and Henry down right now," Paea said. "I look around in the inside [and] it's just me and Corey right now. We've got to step up. That means if we have to play more snaps in there, we've got to. That's what [defensive coordinator Mel Tucker] tells us."
Paea excelled in the first four games of the season, recording six tackles, half a sack and three tackles-for-loss. As he prepares to return, he won't place any undue pressure on himself.
"If anything I felt pressure last year because it was my first time starting," Paea said. "Now it's just read your keys and play fast. When you start thinking about the pressure, leadership, you're the man now—things like that—that's when you start being uncomfortable in your precision and that's when you don't do your job. I just have to be myself."
Small world: It won't happen this Sunday when they face each other at FedEx Field, but Charles Tillman usually roots for Robert Griffin III every weekend. The Bears cornerback and Redskins quarterback both attended Copperas Cove High School in Texas.
"I think the first time I met him was when he was in eighth grade," Tillman said. "We go way back. Two guys from a small country military town ... I guess we produce athletes in the small town of Copperas Cove, so that's kind of cool."
Griffin sustained a serious knee injury in last season's playoffs and hasn't performed as well this year as he did during his spectacular rookie season in 2012. But he showed flashes of that form last Sunday when he rushed for a season-high 77 yards in a loss to the Cowboys.
"We've got to keep him in the pocket," Tillman said. "Everybody knows that he is a versatile quarterback. He likes to get outside the pocket and run. I think the key to winning this game is just keeping him in the pocket and getting some pass rush."
Passing fancy: Jay Cutler's 1,630 passing yards are the most by a Bears quarterback through the first six games of a season in team history. He's on pace to amass 4,347, which would break the franchise record of 3,838 set by Erik Kramer in 1995.
Back on the ballot: Two months after deciding to exclude punt returners from the Pro Bowl, the NFL has opted to add them to the ballot.
"Based on our ongoing conversations with the NFL Players Association, we both agreed it would be best to keep return specialists on our Pro Bowl ballot," says Ray Anderson, the NFL's executive vice president of football operations.
"The focus of these discussions has been to enhance the Pro Bowl experience for players and fans. Keeping our most exciting punt-return specialists involved in the game while providing more roster flexibility on defense will aid that effort."
Bears specialist Devin Hester, who has been voted to three Pro Bowls, ranks third in the NFC in kickoff returns with a 30.3 average but has averaged only 5.8 yards on six punt returns.