After Matt Blanchard broke his hand last Thursday night against the Chargers, the Bears signed two quarterbacks because they want to rest both Jay Cutler and Josh McCown in the preseason finale.
But that doesn't necessarily mean that Jordan Palmer and Trent Edwards both will be sent packing before the Sept. 8 season opener. With the timetable for Blanchard's return uncertain, one of the two new quarterbacks could earn a spot on the Bears' 53-man roster.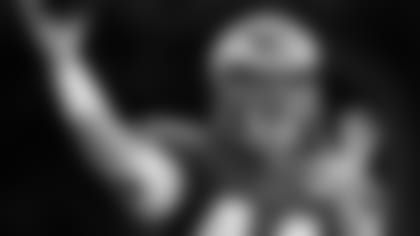 Trent Edwards is expected to play in the Bears' preseason finale Aug. 29.
"Depending on Matt's situation, we'll have to make a determination whether we'll have three or possibly four on the roster—more likely three—and that could involve one of those two guys certainly at this point," said coach Marc Trestman. "But it's still up in the air based on what happens the next few weeks and what happens with Matt."
In Friday night's preseason game in Oakland, the Bears intend to play Cutler at least until halftime and possibly into the second half, McCown in the third quarter and Palmer in the fourth. The plan is then for Palmer and Edwards to split reps in the Aug. 29 preseason finale against the Browns.
"We plan on holding both Jay and Josh out and playing Jordan and Trent [versus Cleveland]," Trestman said. "If something would happen to Jordan as the third, we still would have wanted to protect Josh, so that's the reason why we've got two quarterbacks coming in."
Palmer and Edwards both practiced with the Bears Monday as the team worked out at the newly-renovated Halas Hall for the first time since breaking training camp in Bourbonnais last week.
The younger brother of Cardinals quarterback Carson Palmer, Jordan Palmer has appeared in four NFL games over four seasons with the Bengals (2008-10) and Jaguars (2012), completing 10 of 15 passes for 59 yards with two interceptions and a 34.4 passer rating.
"This is a great opportunity," Palmer said. "I'm at the point in my career where I just want to play football. I've had the opportunity to learn a lot of different offenses from a lot of great coaches, played with some great quarterbacks, and have another opportunity to do that here [with] a really dynamic offense and a guy who's been around the block and I've known since college in Jay. I'm excited for the opportunity and looking forward to making the most of it."
Palmer was summoned from California, where he was working for a marketing company.
"I was in the office two days ago, at work, interviewing interns," said Palmer, who arrived in Chicago in need of a shave. "And throwing, and staying in shape, surfing a lot. This is different. I didn't even have an opportunity to go buy a razor, so hence the scruffy beard. It's difficult, but at the same time all you can ask for is an opportunity, and that's what this is."
Edwards has started 33 of 38 games played over five NFL seasons with the Bills (2007-10), Jaguars (2010), Raiders (2011) and Eagles (2012), completing 563 of 929 passes (60.6 percent) for 6,033 yards with 26 touchdowns, 30 interceptions and a 75.5 passer rating.
"Hopefully I'll be here for the long haul," Edwards said. "If not, hopefully I'll make some good relationships here. But it's a chance to get back in the NFL for me and a chance to go play again."
Prior to joining the Bears, Edwards was working out regularly in Newport Beach, Calif., with tight end Evan Moore, a fellow free agent and former teammate at Stanford who has played for the Packers, Browns, Seahawks and Eagles.
Edwards knows that both he and Palmer are so far behind the eight-ball they can barely even see it, but joining the Bears certainly beats the alternative.
"It's better than sitting on a couch for sure," Edwards said. "If you can get into an NFL locker room and learn an NFL playbook and play in a preseason game or two—just show that you can still perform—that's way better than no situation at all where you're doing nothing."