Bears quarterback Jordan Palmer told reporters Wednesday that he's sitting out OTA practices for a second straight week with a strained right pectoral muscle.
The veteran backup, however, views his shoulder injury as a minor setback and is confident that he'll be able to practice during next week's mandatory minicamp.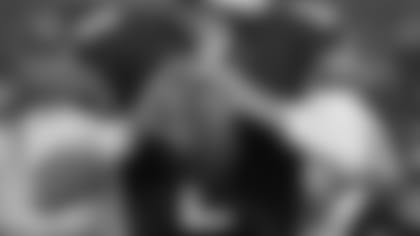 Jordan Palmer intends to return to action for the Bears' minicamp next week.
"It's a nothing deal," Palmer said. "If I played any other position, it wouldn't be an issue. I'll be ready to go for the minicamp. So just letting it breathe. It's frustrating because it's not a serious injury; they're just pulling me out and letting me get a little bit of rest."
Despite the injury, Palmer remains the leading candidate to be the Bears' No. 2 quarterback behind Jay Cutler this year and is pleased with the progress he's made in coach Marc Trestman's offense.
Palmer originally signed with the Bears last Aug. 16 after third-string quarterback Matt Blanchard broke his hand. Palmer played the first half of the preseason finale against the Browns, completing 11 of 17 passes for 111 yards with one touchdown and a 102.8 rating.
Palmer was cut before the start of the regular season, but he was re-signed Oct. 28 after Cutler suffered a groin injury in a Week 7 loss to the Redskins. Palmer spent the final nine weeks of the season on the Bears' 53-man roster, but he did not appear in a game.
"I spent last year getting mental reps," Palmer said. "It may sound dumb to the average fan; how can you get a rep without getting a rep? But … we saw Josh [McCown] not get a rep during the season last year and come in and pick up as if he had been getting them. So there's a course of action to that, to getting reps with watching."
Although Palmer did not see any game action last season, the time he spent digesting the offense figures to improve his chances of winning the backup job. Other contenders for the position include veteran Jimmy Clausen, rookie sixth-round pick David Fales and Jerrod Johnson.
"I really feel like this is my second year in the system," Palmer said.
"To be able to spend the time I spent in the offseason—January, February, March—preparing for what was going to happen this year, watching every single snap that Josh and Jay took last offseason, it's put me in a great spot to come in here and feel like I'm learning everything for the second time around as opposed to being introduced to it."
Palmer has appeared in four career NFL games—all as a reserve during three seasons with the Cincinnati Bengals from 2008-10—completing 10 of 15 passes for 49 yards and two interceptions.
Although the Bears signed Clausen last week, Palmer is more concerned about honing his skills than handicapping the competition for the backup quarterback position.
"I spend so much time focusing on each day when I'm practicing that it's hard to look any further down the line," Palmer said. "In my position, I've had to compete every single year since I was in high school. I've had to compete for the job, I had to beat somebody out or I had to compete to keep my job.
"So whatever the situation is and how everybody looks at it, I'm just focusing on each day right now. I'm just trying to get back in the game and then when I get back in here, just trying to move the team. That's been my focus thus far and it's honestly hard for me to look at it any other way because I've been doing it for so long."