Bears quarterback Jordan Palmer will get an up close view of the draft Thursday night, sitting next to Central Florida quarterback Blake Bortles at Radio City Music Hall in New York.
Palmer spent the past few months tutoring Bortles and a handful of other quarterback prospects at the EXOS training facility in Carlsbad, Calif. Bortles is a possible top-10 pick who passed for 3,581 yards and 25 touchdowns in 2013 after throwing for 3,059 yards and 25 TDs in 2012.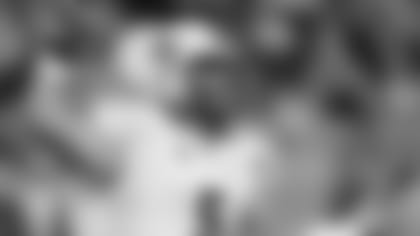 Central Florida quarterback Blake Bortles could be a top-10 pick in tonight's NFL Draft.
"I'm not sure what term he would use for me, but I look at him like a really close friend, a guy that I have a lot of respect for," Palmer told ChicagoBears.com.
ESPN analyst Mel Kiper Jr. predicts that Bortles will be selected by the Minnesota Vikings with the eighth overall pick in the draft. Palmer is convinced that the 6-5, 232-pounder possesses both the talent and intangibles to be a great NFL quarterback.
"You have to be able to deal with all of the [stuff] that comes with being a franchise quarterback—the ups, the downs, the personalities, the media, the fans, the coaches, the pressure; all of those things," Palmer said. "He's as capable in that category as anybody I've been around.
"So I think for a guy like him [the transition] is going to be seamless. He's got tons of areas to get better; they all do. But football is the most important thing in his life and he's going to get better at those things and I think he's going to be a great pro."
Bortles said at the NFL Combine in February that he enjoyed working with Palmer.
"It's been awesome," Bortles said. "To work with Jordan Palmer has been a huge help. It was definitely a big help for him to videotape me while I was throwing and then make corrections and see the changes, see what I was doing wrong, what I needed to be doing and how I got there."
It appears that Palmer will serve as the Bears' No. 2 quarterback behind Jay Cutler this season. Palmer, who will turn 30 later this month, spent the final nine weeks of the 2013 campaign on the Bears' 53-man roster, but he did not appear in a regular-season game.
Palmer has appeared in four NFL games—all during three seasons with the Bengals from 2008-10, completing 10 of 15 passes for 49 yards and two interceptions.
During the past few months, Palmer also worked with quarterback prospects Keith Price of Washington, Brett Smith of Wyoming and David Fales of San Jose State.
The most important lesson that Palmer was trying to teach the young quarterbacks was how to be a pro.
"When somebody says to you, 'Man, that guy's a real pro,' that's the ultimate compliment," Palmer said. "It means that you know what it takes to play, you have a lot of credibility and you have respect in the locker room. So I was trying to expedite the process of getting those guys to be a pro and learn what it takes."
Palmer also focused on fundamentals and "learning how to learn."
"If you stare at a playbook, you're in trouble," he said. "If you have a process to learn it, you have a chance. The second thing is teaching them how to self-correct. If you throw three bad balls in a row, do you get really mad at yourself or do you understand, 'OK, here's what I'm doing wrong and here's what I need to do to fix it.'"