Continuing their battle to be Jay Cutler's backup, Jordan Palmer will be the first quarterback off the Bears' bench Friday night in Seattle before yielding to Jimmy Clausen.
Coach Marc Trestman stressed that the order doesn't reflect where the two stand in their competition. It just follows the same pattern that saw Palmer play second in the preseason opener against the Eagles and Clausen work as the No. 2 quarterback last week versus the Jaguars.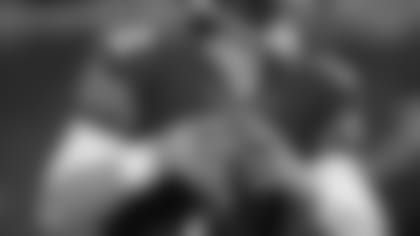 Jordan Palmer
"We just decided to rotate them this time," Trestman said Wednesday after practice. "Jimmy had the first shot last week and we flipped it and we're giving Jordan the shot this week."
Palmer engineered two fourth-quarter touchdown drives last Thursday night at Soldier Field, rallying the Bears from a 19-7 deficit to a 20-19 victory over Jacksonville. He completed 6 of 9 passes for 73 yards and a 91.4 passer rating on three possessions.
"It was a lot of fun going in being down 12 and trying to get the most out of each play and let guys make plays," Palmer said Wednesday. "We had some really big runs and a turnover on defense and it was fun to be part of guys rallying back."
Palmer called the outing "a confidence builder" and hopes to pick up Friday night against the Seahawks where he left off versus the Jaguars. But he knows that facing the defending Super Bowl champions in arguably the NFL's loudest stadium will be a much more difficult task.
"Every game is a tough game," Palmer said. "You want to prepare the same, but at the same time this is a great test because of the environment. There's going to be some adversity that we're going to have to deal with, and playing against a team that's hot right now.
"They're coming off a Super Bowl championship and playing well in the preseason. It's a great opportunity to show some composure and move the team down the field."
While Palmer is involved in an intense position battle, he insists that he focuses on the task at hand.
"I seldom think about the competition," Palmer said. "We have so much stuff on our plate as a quarterback in this system every day to get prepared for practice and to get prepared for preseason games. So I'm locked in day-by-day.
"I'm at the point in my career where it could have been over a couple of different times. Just to be in a position competing against quarterbacks in a room that are really, really good, I'm just excited for any opportunity and this is another one. That's the only way I'm looking at it."
Palmer is expected to take over for Cutler in the third quarter Friday night with Clausen playing the fourth period. In the first two preseason games, Clausen has completed 18 of 28 passes for 244 yards with two touchdowns, one interception and a 100.9 passer rating, while Palmer has connected on 14 of 20 attempts for 177 yards with one TD, one interception and a 93.1 rating.
Clausen signed with the Bears June 5 after spending his first four NFL seasons with the Panthers. The Notre Dame product has not appeared in a regular-season game since his rookie year in 2010 and missed all of the 2013 campaign with a shoulder injury that required surgery.
Clausen participated in the final two weeks of the Bears' offseason program, and has steadily improved while becoming more familiar with the offense.
"I feel great," Clausen said. "I feel like I've come a long way being here for a few weeks during OTAs and then training camp. I feel real comfortable in the offense. I'm just trying to go out each and every day, keep working and keep competing."